Wacky Arm Inflatable Tube Man Family Costume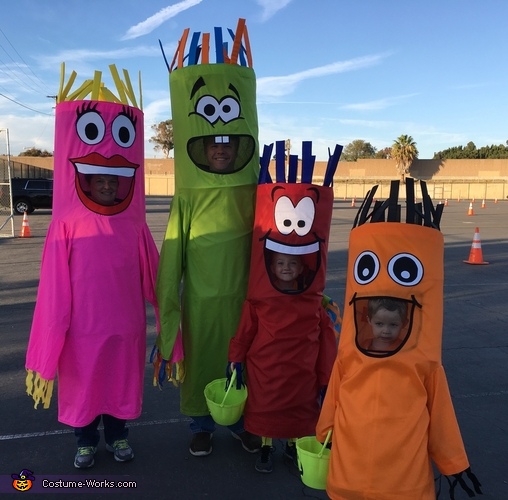 Wacky Waving Inflatable Arm-Flailing Tube Man Costumes
More views:
(click to enlarge)
A word from Stacey, the 'Wacky Arm Inflatable Tube Man' costume creator:
My 3 year old son is obsessed with wacky arm inflatable tube men. Ever since we were standing outside a car dealership and one almost bopped his 6 year old brother on the head, he has found them hilarious. So this year, when he asked to be one for Halloween, we decided to be an entire family of Wacky Arm Tube Men.
To make these costumes, I used pop-up laundry hampers as the tube base. Then sewed the body out of ripstop nylon, the eyes from cotton and heavy interfacing, and the mouth from mesh and heavy interfacing and bias tape. The hair was made to stand up using heavy interfacing and a pipe cleaner inserted into each nylon hair strand.
The overall cost per costume was approximately $35.
We had a great time dancing around in these and people thought they were hilarious. My 6 year old son won the costume contest at his elementary school's Halloween festival.