Voodoo Priestess and Voodoo Doctor Costume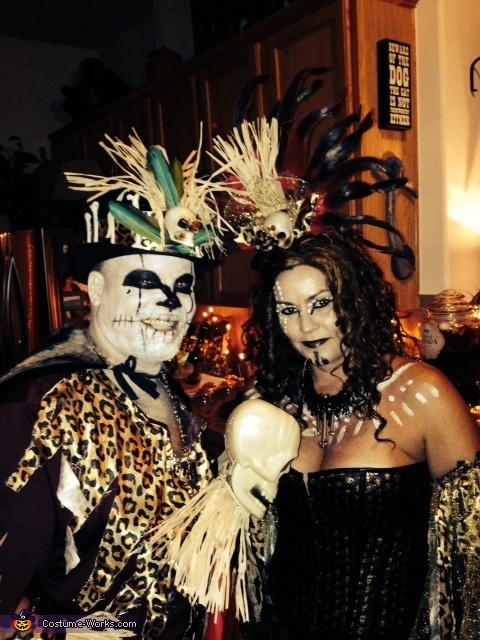 We were a hit!
More views:
(click to enlarge)
A word from Gina, the 'Voodoo Priestess and Voodoo Doctor' costume creator:
Me and my husband wore this costume to our annual Halloween Bash we do every year. This costume was all hand made with exception of few pieces. Mine is a bustier with a black skirt with strips of different colors material (leopard, netting, lace, gold netting, maroon left over material) safety pinned on rim of waist line on skirt. I also made arm bands with elastic and material was safety on the band as well and tied material on my ankles and made a head dress on a headband with feathers and skulls I found at Walmart Halloween section. His is a top hat with glued skull and material to match my outfit. I took an old shirt and cut off sleeves to look tatterd and hot glued material to front with bones to add for more voodoo look and bought a black cape at Halloween Store and added fur on back part from Hobby Lobby. Belt is from goodwill, it's a woman's belt turned backwards, I glued skulls and bones to it. He wore black workout pants and no shoes. Cost 50.00 To make. Many labor hours of love though. But all in all it was a huge hit! Another great Halloween party written in the books.