Vincent Costume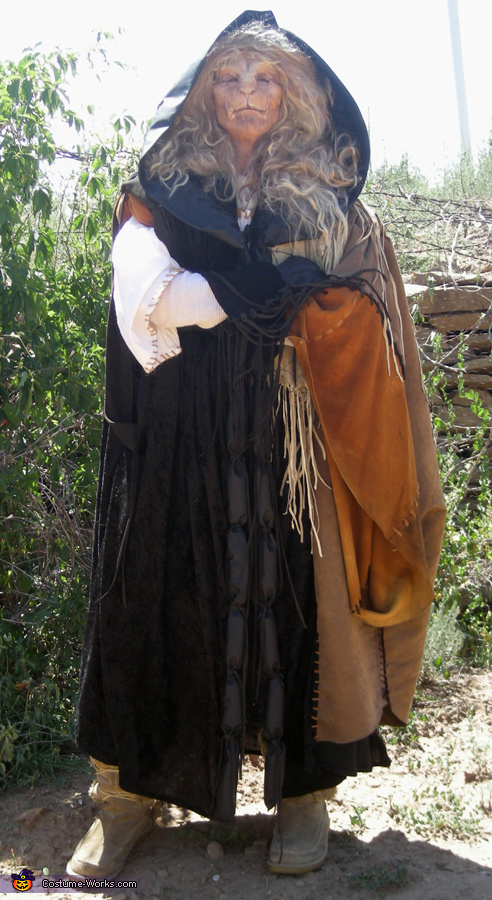 Vincent-High Desert of NM
More views:
(click to enlarge)
A word from Julia, the 'Vincent' costume creator:
I am wearing this costume, which has been a work in progress. Is is based on Vincent, the main character in the TV series "Beauty and the Beast", with Ron Perlman as "Vincent"and Linda Hamilton as "Catherine".
I am very good at costuming but lacked the knowledge to create a silicone or foam rubber facial prosthetic appliance.
I started to research the subject on You Tube and found that one could easily make such an appliance out of facial quality liquid latex. Because I also work in clay and could easily sculpt a face upon which to mold the latex, I chose Mehron Liquid Latex as my medium. But there was no one available to make a plaster mold of my face upon which to sculpt. What to do? I decided to make an impression of my own face myself, so I rolled out a slab of clay, laid it on my face, pressed around the eyes, nowse, mouth and chin, and then allowed the clay to stiffen a bit. I began to add more clay to make Vincent's face while looking at numerous close up photographs that I had amassed on my PC. I then fired the mold which at this point, looked like a sort of Venetian mask. I proceeded to make the latex facial prosthetic appliance using 10 coats of material, sealed it with castor oil, and then added grease paint and crepe hair. I tested the appliance by wearing it for 6 hours, having applied it with spirit gum. It was quite comfortable, and I was able to eat and drink with it on. In trying on the full garb, I found that I could keep cool in warm weather by tying a wet bandana around my neck and rewetting it time to time.
The costume itself was made entirely by hand without a pattern (and a sewing machine) after studying numerous screenshots of the series as well as photos of the original costumes. Real leather was used in much of the outfit; the lacing was hand-cut. The vest was made out of an old moving blanket. The trim om the cloak was made of pleather, the main part crushed velvet. The wig is actually two wigs joined together with a crochet hook. The pants are recycled cargo pants with real leather knee pads and ties.
The total cost was around $300.00
http://venetiancat.com