Vincent Van Gogh - Self Portrait with Gray Felt Hat Costume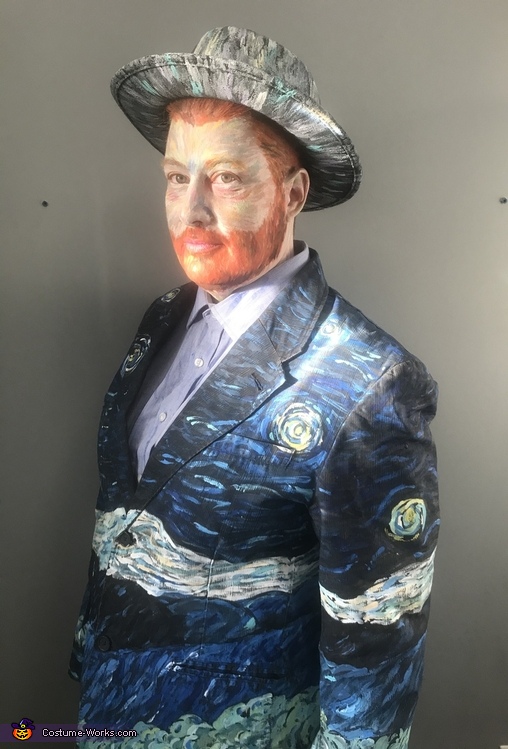 Half profile
More views:
(click to enlarge)
A word from Deanne, the 'Vincent Van Gogh - Self Portrait with Gray Felt Hat' costume creator:
Iím a Canadian floral designer whoís always had a soft spot for the story and art of Van Gogh. My bedroom lights turn to the colours of Stary Night as I drift off to sleep every night to the sweet sound of Don McLean singing Vincent. Highlight of our trip to Paris this spring was an interactive Van Gogh exhibit. Guess my inspiration has been all around.

I decided to create a combination of two of his most famous paintings. I painted Starry Night on one of my husbandís blazers (his clothes are often hijacked for costumes 😊). I used acrylic craft paint (from Michaels) as it was a cheaper option. My face was inspired by Self-Portrait with Grey Felt Hat. I used water activated face paint I bought at an art store, better quality than your average grease paint you find at costume stores... and more comfortable, lasted 14+ hours, and cleaned up easy. I also used it in my hair around my hat line, well worth the extra money.

I probably spent around $100 on paint, but 1/2 of that was a large palette of face paint that I will be able to use over and over again. Hat and blazer was taken from my husbandsís closet...so free😂. Go to a thrift store.