Two Face Costume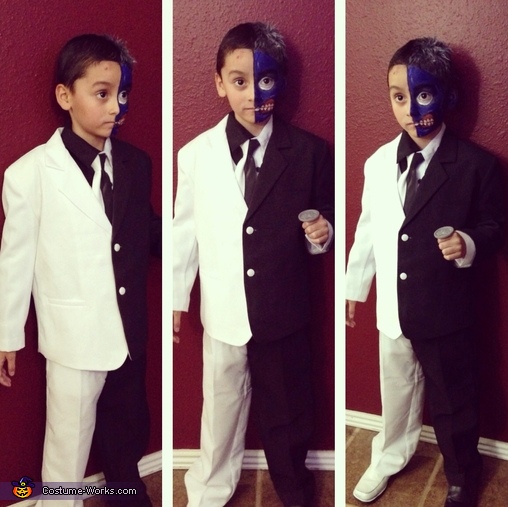 Two Face Costume
A word from Shalese, the 'Two Face' costume creator:
My son as Two Face (the cartoon and lego version).
Materials: white 5-piece suit ($40 but can find for $20 online), black dress shoes (couldnt find white ones)($3 thrift store), black spray paint ($4), white spray paint ($4), gray hair color spray ($2 Walmart), blue face paint tube ($1 walmart), white face paint tube ($1 walmart), package of face paint crayons in various colors ($3 Walmart).

Suit: tape and cover the side that will remain white (look at a picture to reference), spray the other side w/the black spray paint. Let dry b4 spraying the other side. Do this on all pieces.

Shoes: spray one with the white spray paint and let dry.

Face: First I started by drawing a black line down the center of his face. I drew the mouth first with a black face paint crayon, and colored the teeth in white, then red around the teeth. Then I outlined the eye and colored in white. Lastly I colored the rest the face w/ the blue face paint cream (the ears too). With the white crayon I went around and put definition in the face.

Hair: I started by wetting half of his hair, and made that side messy w/ my fingers. I put some gel in it then go outside and spray w/the gray hair paint. I played w/it a little. I put a little of the white face paint too to make it stand out.

Additional: my son already had a Two Face coin from one of his batman toys so he used that.