Tuna Fish Sandwich Costume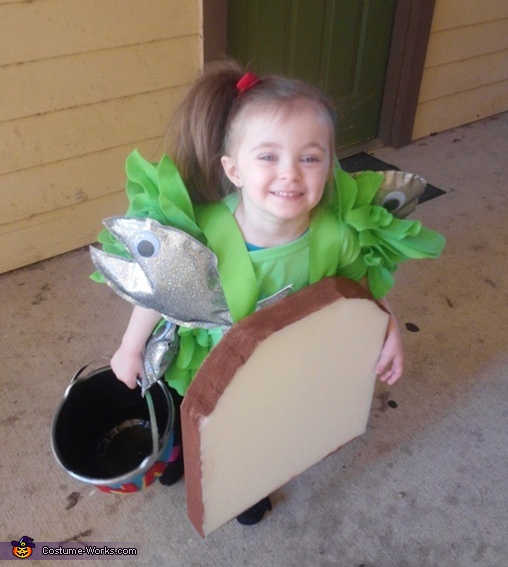 Remi the Tuna Fish Sandwich
More views:
(click to enlarge)
A word from Remi, the 'Tuna Fish Sandwich' costume creator:
This is my awesome daughter Remi. Each year I create a hand made costume inspired by food for her to prance around in as she collects candy for her father, Logan, and I to eat after she falls asleep. I strive to create costumes that are different and will set her apart from all the Princesses and witches on Halloween night. As I was prowling the internets seeking ideas, I thought dressing my child as a sandwich would be pretty neat and fits our criteria! When I shared this idea with Remi she became very upset and, I quote, said "Mommy, I will not be a peanut butter and jelly sandwich. I'm going to be a tuna sandwich. Tuna is my favorite!"...and so it began! I went to my favorite craft store and gathered the following ingredients for her delicious sandwich costume:
Green t-shirt
Green felt
Green ribbon
Iridescent/sparkly pleather
2 cushion pads
Brown acrylic paint and brushes
Extra large googley eyes
Hot glue gun and glue sticks
Scissors
Stapler and staples
Newspaper

I first began by cutting the green felt into leaf like shapes.
Next, I went along them with hot glue to create the seams in the lettuce. Then I hand sew the leaves all along the neckline and sides of the shirt. To create the fish I cut out a fish shape in the pleather creating both backs and front for the tuna. I stuffed them with newspaper, stapled them shut and glued on the googley eyes. I also sewed the fish to the shirt near the edges so the they would be visible under the bread slices and Viola the tuna was done! For the bread, I cut the cushion pads to have rounded top corners to resemble a slice of bread and painted the outer corners brown to create the crust. The final step was to sew the green ribbon onto the bread slices so that they would hang over Remi's shoulders and bring her costume together.

This costume was the best idea my young daughter has ever had!