Toy Soldier Costume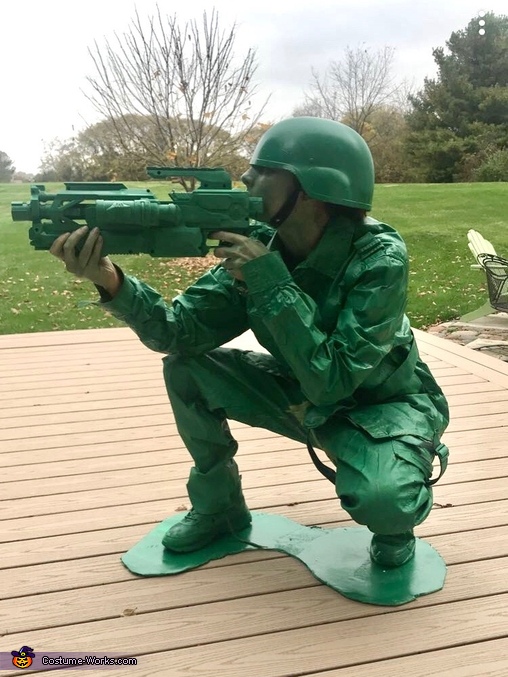 Toy Soldier Costume
More views:
(click to enlarge)
A word from Brooke, the 'Toy Soldier' costume creator:
I got this costume idea from the Toy Story movie. It was such a creative and inexpensive costume to make, and the end result was awesome! The supplies needed for this costume are:
-Green aerosol paint
-Primer paint
-Cardboard
-Army shirt
-Army pants
-Boots
-Army helmet
-Toy gun
-Army belt
-Green face paint
I purchased the clothes from Salvation Army and got them for very cheap. To create this costume, I first painted all the parts of the costume with primer paint to make everything the same color. I did this with a paint roller over cardboard. After letting this dry, I hung the clothes outside on a tree branch, and I spray painted the entire outfit so it was completely green. I also spray painted all of the accessories including the shoes, gun, helmet, and belt. Finally, I cut out a foot piece to stand on and spray painted it after getting the outline of the piece how I liked it. After putting on all the clothes, I put green face paint on my face, hands, and neck, and the end result was a perfect toy soldier. Overall, I spent around $45 and used around 10 cans of spray paint.