Headless Bride and Groom Couples Costume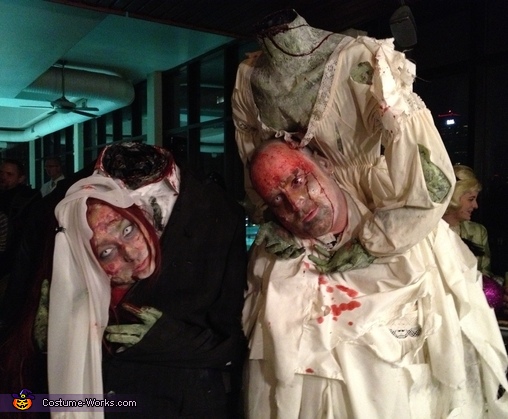 The happy couple, size difference!!!!
More views:
(click to enlarge)
A word from Tamara, the 'Til Death Do Us Part' costume creator:
I am getting married this year in November. So my fiance and I thought it would be fun to dress as headless bride and groom zombies. However the bride was holding the grooms head and the groom was wearing the brides head. We got the idea from other headless costumes out there, however I wanted ours to be more intricate in detail. I made paper mache headless torso's and painted them. I made sure when I shaped them that they took on the shriveled look of a dead zombie. The torso's are supported on cardboard slats slipped into a backpack. The brides dress is a sundress from the thrift shop and some torn bed sheets. The grooms suit was also from the thrift shop, we aged and distressed our clothes so they looked tattered and torn. We used a zombie makeup kit to create our faces. The total price was about $50 since a lot of stuff we used to create the costumes was stuff we just found around the house.