Thomas the Train with Conductor Costume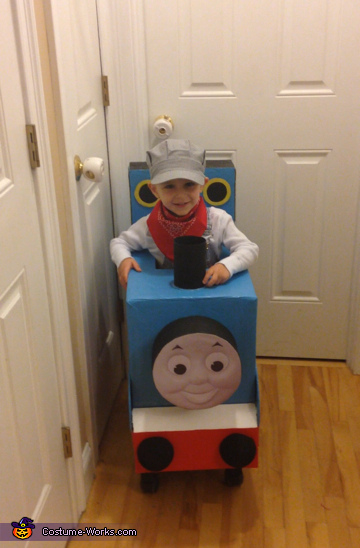 Thomas the Train with his adorable conductor!
More views:
(click to enlarge)
A word from Kelly, the 'Thomas the Train with Conductor' costume creator:
My 2 1/2 year old son decided he wants to be Thomas the Train this year for Halloween. Since this is his last Halloween before his baby brother is born and also his first Halloween with his Daddy being overseas for work and missing all the fun I definitely couldn't let him down. So while 7 months pregnant I tackled the project head-on. When all was said and done I spent a grand total of only $30 on the entire thing, using as much as I could find around the house. The majority of the costume is made from cardboard and the only expense was the paint, the foam for the head and black bumpers on the front and back, as well as the conductor hat my son is wearing and a train whistle (not pictured). I had some extra wood from a previous construction project that I used to make a frame to support the train and used the caster wheels from my computer chair and attached them to the bottom of the frame. All my son needs to do is stand in the hole in the middle of the train and walk, the train will go everywhere he goes! Or if he doesn't want to use the frame the train easily lifts off it and he can carry it with some straps I attached that go over his shoulders. It is surprisingly light weight. He absolutely LOVES it! And the most special part of the whole costume are the overalls my son is wearing which used to be worn by his Daddy 30+ years ago! We are all very excited for Halloween this year, just wish his Daddy could be sharing the moments with us.