The Rocketeer Costume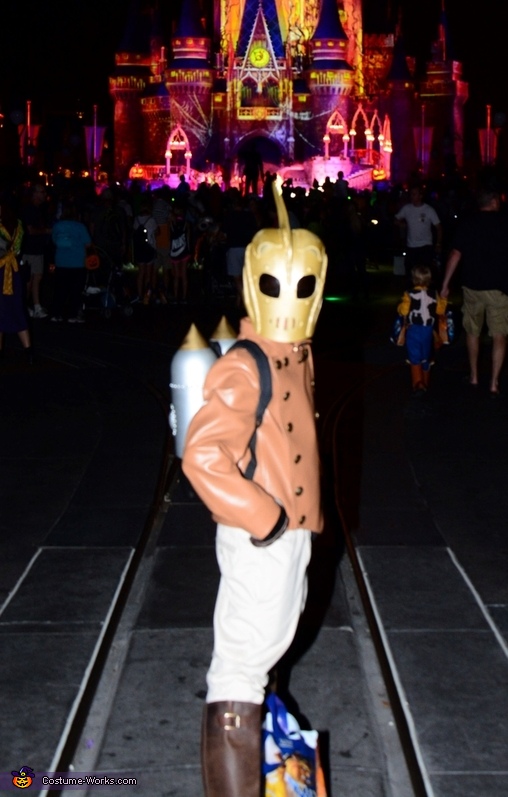 The Rocketeer Costume
More views:
(click to enlarge)
A word from Amanda, the 'The Rocketeer' costume creator:
My 10yr old son Ethan loves The Rocketeer so we thought it would be a perfect costume this year. I had the jacket commissioned from a cosplay website for $140. The jetpack is made of plastic placemats, 2 liters soda bottles, a scope bottle, and a wooden box. The straps were cut off a backpack found at Goodwill for $4 and screwed into the back of the wooden box. Everything is held together with contact cement and velcro. The helmet is made of eva foam found at an auto parts store. I drew the helmet template on the foam and cut it out and glued it together with contact cement.A wood engraver hot knife and a heat gun were very helpful tools. The lenses of the helmet are cut from a 2liter bottle and covered with car tint. The boots were found at Goodwill for $8 and the pants were an old pair of khakis that are sewed to taper at the knee for the 1930s jodhpur look. The gloves were purchased for $5 off Amazon along with $6 fingerless gloves and I simply put the fingerless gloves over the black gloves.

This was such a fun project and we debuted it at Mickey's Not So Scary Halloween Party on Oct 16th. Ethan received many compliments and even posed for a few pictures for hardcore Rocketeer fans. Now onto planning next year's costume!