The Hatbox Ghost Costume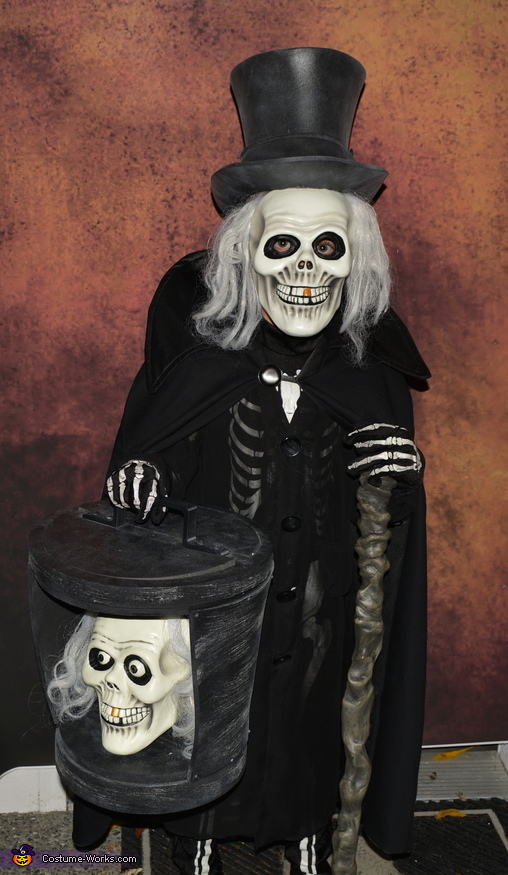 The Hatbox Ghost
More views:
(click to enlarge)
A word from Will, the 'The Hatbox Ghost' costume creator:
Our family has a slightly unhealthy Disney addiction. This year, my son, Jack, decided he wanted to be The Hatbox Ghost, from the Haunted Mansion ride. Always up for a good creepy challenge, I was pretty excited about it. Thereís quite a bit to the costume, but Iíll touch on the highlights.

The Hat, and Hatbox, are both constructed with EVA foam, coated with PlastiDip, and aged a little with gray primer, and acrylic paint. The cane is a wooden dowel, covered with something called Free Form Air, which is an extremely light, epoxy dough. The cane is also painted with acrylics, and also glow-in-the-dark powder. The cape, and chiffon trench coat were both custom-sewn, using some modified Simplicity patterns. The skeleton suit is the only store-bought item here, but was modified for our use: it originally did not glow in the dark, so was painted with a homemade, glow paint mixture. For the hatbox face, and mask, a custom clay sculpture was made, to resemble the hatbox character. This was turned into a silicone mold, for casting. The casts themselves are a plastic resin, mixed with glow-in-the-dark powder. The eyes were cut out of the mask version, and the hatbox version left alone.