Teen Wolf Costume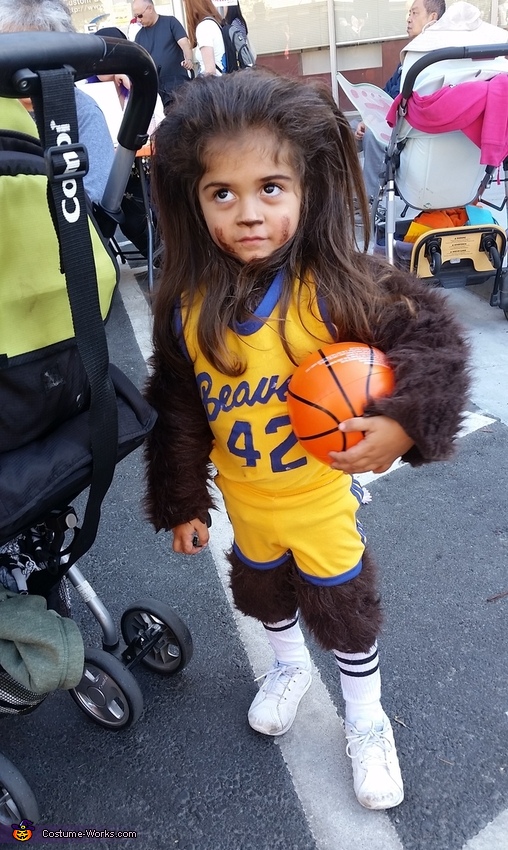 Teen Wolf
A word from Jessica, the 'Teen Wolf' costume creator:
My son Dominic is 4 years old and dressed up as Teen wolf. He loves watching movies from the 80's and this is what he decided to be this year.

We bought fabric from JoAnns, about half a yard of the blue and a yard of the yellow. Also a half yard of the fur.

To make the fur for the arms I cut a hole with a slit in the back to fit his head but to wear it still hugs the neck. Then brought the material down around the arms, leaving a hole by the armpits to still keep the arms moveable. Sewed it all together then added in patches under the armpit to close it up.
For the jersey I uses his other jerseys as a template. Looked online on how to make the neck collar and the sleeves.
The lettering on the jersey I printed it out on paper, cut it and double sided taped it to the blue fabric and slowly cut out the lettering, then hot glued it on.
the shorts I made another template sewed together and put elastic around the waist.
The hair and beard is Dominics real hair. We teased the top and sprayed it with strong hairspray.
The beard we grabbed his hair from underneath the back, pulled it forward and used hairspray to stick it to his face.
All together it cost us about $17 to transform Dominic into Teen wolf!!!