Super Claw Costume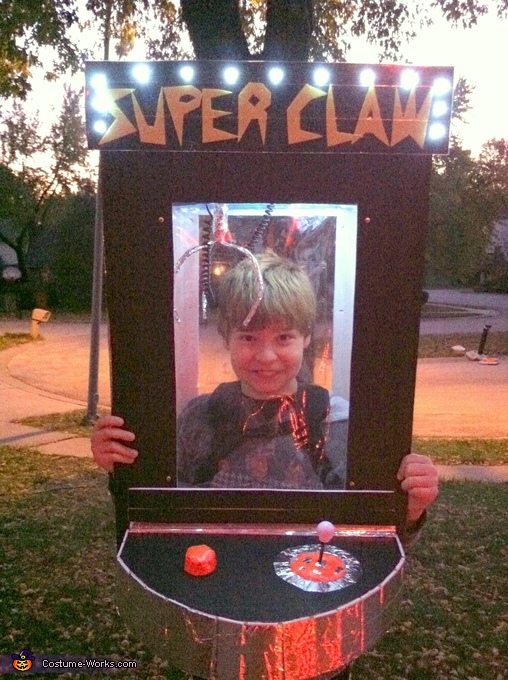 Super Claw Costume with my son as the prize
More views:
(click to enlarge)
A word from Michele, the 'Super Claw' costume creator:
This super claw costume is being worn by my son, Ross. He decided to be a super claw machine because he is so good at winning prizes when he plays this game. One time he even had kids giving him money in hopes that he would win them a stuffed animal.
The basic supplies you need to make this costume are:
Black foam board, cardboard, old phone cord, head tingler for claw, cut out clear plastic from any sweater storage bag,battery operated lights, joystick controller,lots of hot glue, duct tape, silver metal tape, exacto knife, 8" cable ties, and an old backpack that goes over both shoulders and fastens in the front.

This costume took many hours to complete. But I liked the challenge of having to figure out how to mount the claw into the machine and make it look authentic as well as functional so my son could walk around in it with his hands free to get candy.
First I constructed the black box using 4 pieces of black foamboard. I cut out the middle sections of the front and back part of the machine. I hot glued extra support inside by using cardboard strips and duct tape. I did not connect the front and back pieces together so that the sides of the machine would be open.
Next I made the claw. I used a head tingler we had, taped it up to have 3 claws. I used an elastic exercise band to tie to top of tingler so that the claw would be swing around. I used a small cardboard box to tape the elastic band to. To make it secure I used several layers of duct tape. Then I mounted the claw box to a separate piece of black foamboard that would be the top of box. So, at this point I had three parts of the machine completed. The front and back with cut out frame,extra support on the inside, and the top of box with claw attached to top. Then I added the clear plastic to front and back, using hot glue and duct tape. SInce the sides of the box are open, I only put a strip of black foamboard on each side to the idea of having complete sides.
Next, we created the front of machine where the joystick and button would be. I cut out half circle using black foamboard. Then I hot glued small pieces of foamboard around the shape approx. (1.5 x 3)Then covered it with silver metal tape. I attached this to the machine by cutting half way into the foamboard, then taping with 2 layers of duct tape. I hot glued it to the front of box. I attached the top of the box using hot glue, duct tape, and cable ties. One thing I did that helped with being able to put costume on easily was to make it so the top had a flap that could be lifted up and down. How I did this was by cutting foamboard half way through, adding a couple layers of duct tape and then hot gluing the end of foamboard to the back of box. I am sure this sounds confusing but it basically allowed him to open box up to get it on. ON the top we taped the battery operated lights to foamboard. The lettering was made out of construction paper. I covered letters with clear packing tape. This is a quick easy way to protect letters from falling off. The strand of 20 lights was too much for the front so I duct taped the rest to the top, inside of box which turned out to create a super cool effect.
Finally I attached the back of an old, cut up backpack to the back of box. I used cable ties and duct tape to make sure it was secure. Then I cut two thin strips into the front of the box, underneath the joy stick area. This is where I pushed the chest strap through and fastened it so the box would stay upright and connected to his body. By using the duct tape around the cut out area, it kept the strap from cutting the foamboard into.
This costume was a blast to make with my son, but by far the best was seeing him light up (literally) when he walked into his boy scouts halloween party. Well worth the time and effort!