Sunnie the Perky Pink Puppy Costume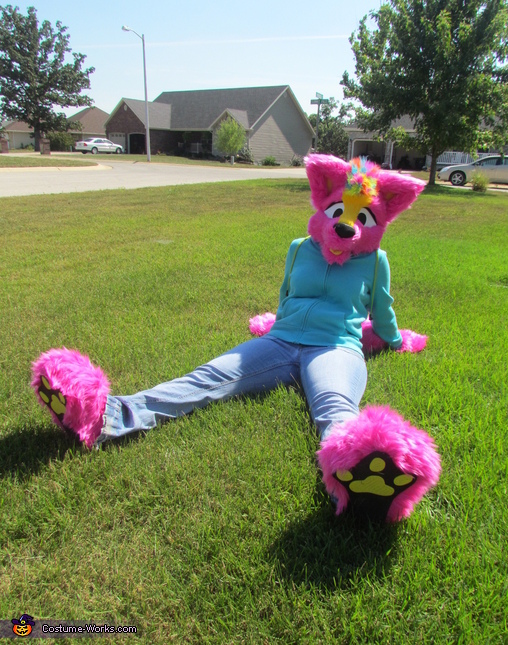 Sunnie the Perky Pink Puppy
More views:
(click to enlarge)
A word from Olivia, the 'Sunnie the Perky Pink Puppy' costume creator:
This costume was so much fun to make, and a large part of that is due to the fact that Sunnie is an original character I created! The head was the most difficult part to do- I started with some plastic mesh, and basically created a "skeleton" that would fit onto my head and serve as a base for everything else. Then, I hot glued upholstery foam to the mesh base and carved the foam down to the shape of the character's head. I added the fur to the head, clipping and shaving it down as needed to give Sunnie her sweet expression. To finish up the head, I added the eyes (which are made of black buckram so that I can see out), the nose (a piece of baked clay covered with some shiny spandex fabric), and the tongue (stitched out of fleece).
The feet were made in a similar manner, building up mesh and foam onto a pair of flip flops. The soles of the feet were covered with foam, and a little puffy paint was added for a non-skid sole!
The tail and handpaws were sewn out of a simple pattern that I drew. For the paws, I appliqued paw pads and glued claws made from clay on. The tail was stuffed with fiberfill, and elastic loops were sewn on so that the tail can be worn on a belt.
The materials for the costume were sort of pricey, with the faux fur being the most expensive thing to buy. Overall, I would estimate this costume cost somewhere in the ballpark of $200-$250, but it is well-made and will hold up for many years to come. It took a long time to make, too! I began constructing it in May with the goal of having it to wear by Halloween, and I'm so happy it is ready and very happy with how it came out! Every little bit of effort is worth it when I see the kids (and many adults!) smile at the the sight of a big, pink doggie!