Steampunk Witch Doctor and his Wife Couples Costume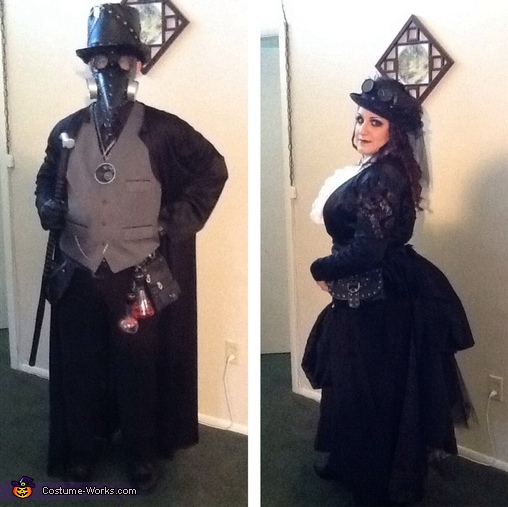 Steampunk Witch Doctor and his Wife
More views:
(click to enlarge)
A word from Valerie, the 'Steampunk Witch Doctor and his Wife' costume creator:
I made these costumes for my husband and I for a Steampunk-themed Halloween event in the town we live. I decided to take elements from the Italian Renaissance (the design for my husband' switch doctor mask) and incorporate it into Victorian Steampunk.
I handmade the mask, hats, props and about 80% of the costume. the mask and top hat are made from plain card stock paper with faux leather and metal rivets glued and sewn to it. The ray gun was an old cowboy prop gun I found for a dollar and re-painted it black and silver. I also used scullery clay to give it a different shape.
My husband's robes, pants and shirt were all made by me but his vest is so etching he had in the closet.
My costume is mix of thrift store items re-worked and handmade items. The layered bustle was constructed from scratch.
I have also done my own makeup and hair.
It was a lot of fun walking around, although we were very sweaty and hot!!! ( we live in Florida)