Steampunk Spy Vs. Spy Costume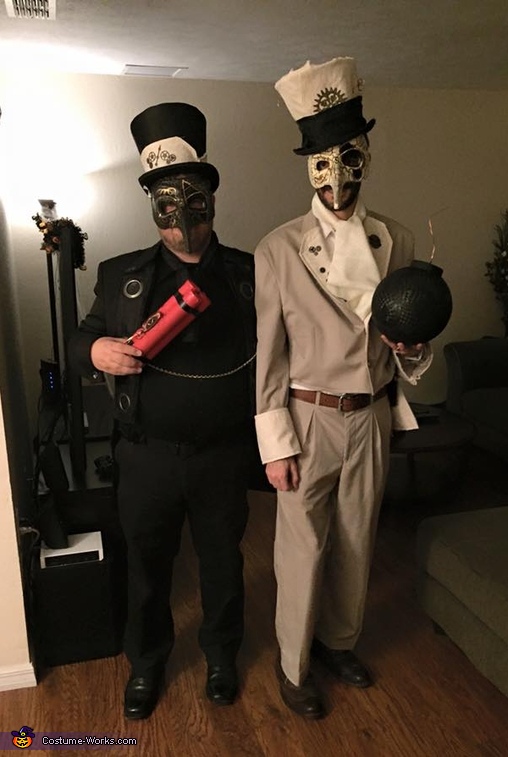 Far away picture of the pair
More views:
(click to enlarge)
A word from Brett, the 'Steampunk Spy Vs. Spy' costume creator:
Saw the masks at spirit halloween and then thought of the old Spy vs. Spy magazine.
Dynamite is copper wiring from Home Depot, Electrical Tape, Clock Diorama Piece, Top of a thing of wet wipes, paper towel tubes, black and red paint, paper towels for stuffing the tubes, red duct tape.
Bomb: Kickball, copper wire, plastic mason jar lid, black paint.
Hats: Hats found from goodwill, black fabric shower curtains, place mats, gear pieces and clock hands from diorama sets, copper wire.
Black suit: repurposed suit found from goodwill (cut in the front and re-sewn with the back cut and sewn to make it look like a tailcoat), copper chain, black curtain fabric (the hole sections on the side is from curtain tops), clock diorama pieces, bolts for the cufflinks.
Black ascot is the shower curtain fabric again.
Black's shirt, pants, shoes and belt are just clothes found in drawer.
White jacket: Suit repurposed from goodwill and done in same fashion, sleeves and collar additions are place mats cut and sewn, gear and clock diorama pieces were added, button were replaced with small door knobs and painted in copper.
White ascot is just white fabric.
White's undershirt, pants and shoes are just clothes found in closet.