Stay out of the Sun Costume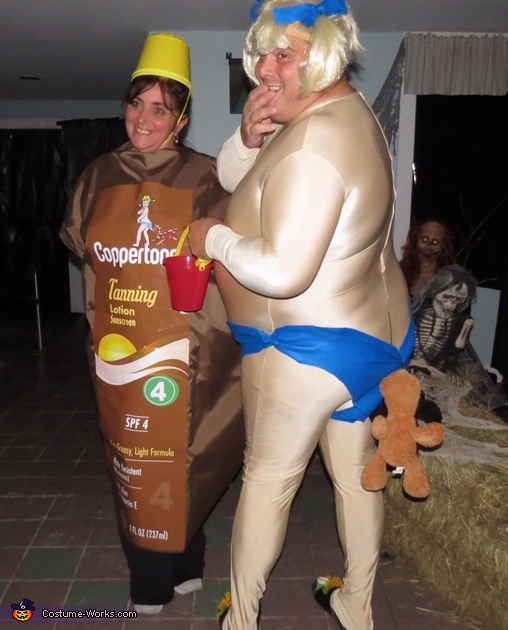 On no! My bathing suit
More views:
(click to enlarge)
A word from Brenda, the 'Stay out of the Sun' costume creator:
The Coppertone Lotion and the Coppertone Girl costumes we made were lots of fun.
Inspired one day as I was taking in the rays by the lake. Both of these costumes cost us about $42.00 in its entirety. The spandex nude suit worn by my husband was the biggest cost at $30.00. I created the wig from an old costume and just made it have pigtails and made the bathing suit and bows for the hair out of blue felt which I sewed right to the spandex so it staying in place and sewed on a toy stuffed dog to
the back to add the embellishment, glued flowers on his sandals and a little sand pail in his hand. The bottle was made of a brown tablecloth and I redesigned the label on my computer to look like the bottle and had it output on vinyl and stuck it to my costume, the cap was an old basket my mom had, I covered it with yellow duck tape and added a ribbon to it so I could tie it to my head. We wore these costumes as Point
Sebago Resort and Campground in Maine where they have a very large Halloween Party
that we look forward to every year. People loved it and laughed so hard, my husband had
the pose down perfect as well. It was so much fun...we love Halloween!!!