Star Wars Rey & BB-8 Costume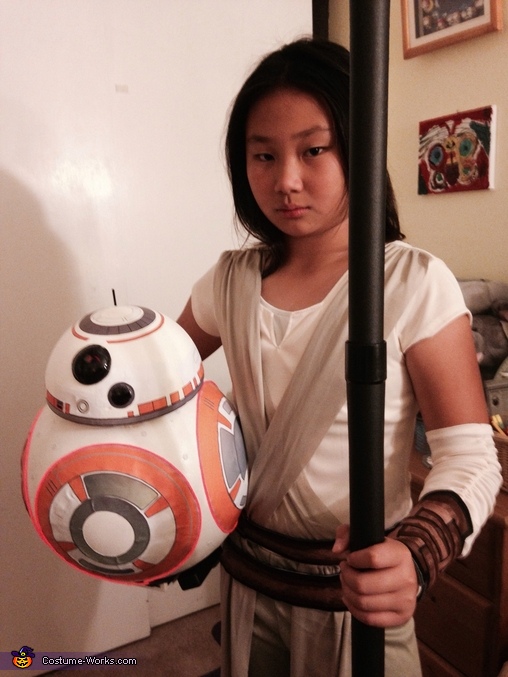 Star Wars Rey & BB-8 Costume
More views:
(click to enlarge)
A word from Jimmy, the 'Star Wars Rey & BB-8' costume creator:
My daughters come was purchased online but her LED lighted, bouncing BB-8 accessory was homemade.

I used a spray painted exercise ball for the body and styrofoam for the head. I used Visio to reproduce the patterns on the body and printed them on heavyweight paper and then glued them to the exercise ball. That was the hard part, glueing something flat onto something round and flexible. I wound up cutting the patterns into strips to minimize the wrinkles.

The head is styrofoam again with glued paper patterns. The eye is a goggly eye cut and painted black. I left a small circle unpainted so a red LED can be seen more clearly inside.

On the body I used orange EL wire as a highlight so it will glow brightly in the dark. Battery pack is on the bottom to stabilize the BB-8. I also glued s base on his butt to cover the wiring connector (access panel was included of course).
My daughter and all her classmates loved it.

The pole she is carrying are Hoover vacuum extension rods.