Spellbound Costume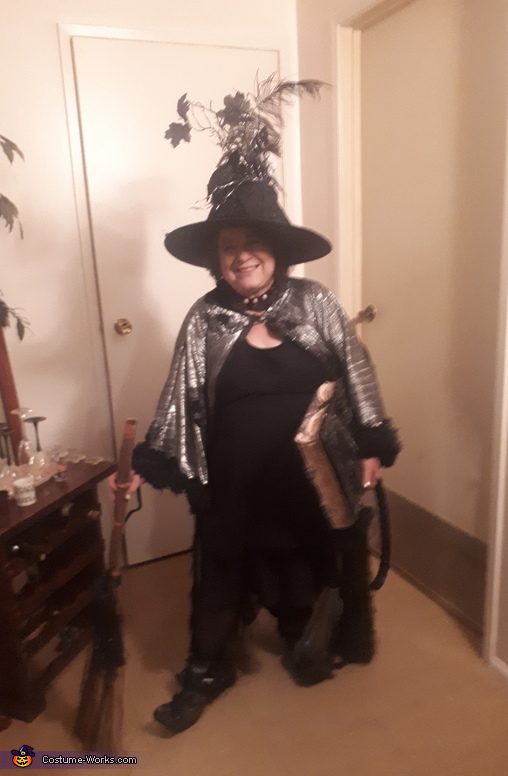 Final result. Ready to go!
More views:
(click to enlarge)
A word from Verona, the 'Spellbound' costume creator:
Every year, I create a Hallowen costume for a friend or family member. This year, I made one for me.

My Spellbook... Mom received a box of tea last Christmas. She emptied the box & was going to recycle it. I looked at it & saw a spellbook. I glued paper towels all over the outside to create an aged look. Covered the open front with poster board. Applied a spiderweb placemat, a bat, a spider, a rat, centipede, some old lace with black roses (I highlighted the swirls with silver paint to age the lace), added lettering. Painted it black. I added an old belt slipped between the wings of the bat to act as a strap. I decided to turn the interior into my purse. I left room for my wallet (already looked like a mini spellbook) my cigarette case (appropriately labelled Poison) Then I built an interior divider. The top part holds all my spell inventory. Old Hag Cackle is my cinnamon mouthwash, Goblin Lips my lip balm, Essence of a Virgin my perfume. Eye of Newt my eye cream. Belladonna is rumored to aid in sleepless nights. True in my case as it is colored sugar & I'm diabetic. Wolfsbane is peppercorns (a spicy bite) Snake oil is my tree tea oil, Mustard seed made the beetle eyes, chilli peppers became dragon scales. Pixie dust is silver glitter. Liquid arsenic my nail polish, Rat Spleen my stevia, Acid is vinegar, Venom is olive Oil. Hemlock Root is crazy glue (in case of a wardrobe malfunction) Transition Powder is an old wooden spool of thread. Unicorn Hair (trimmings from my cousins wig from her costume) Truth Serum is an old fuse. I added a mixing spoon, a vial of poison. All these contents I either had on hand or purchased from Value Village, Dollar Tree or Dollarama. Total cost $10. Under the divider, I left room for my glucose monitor, my insulin & my inhaler. I hand wrote my inventory burned the edges & mod podged it inside.

My boots... I had an old pair of slip on boots that were falling apart. The soles were coming off. I loved these boots but they leaked & were in rough shape. So I cut up a pie plate. I added pieces to the front, the back, the toes & curled them up. I used duct tape to completely encase the outside & bottom. Then used masking tape to cover the duct tape. Once that was done, I used an old sheer curtain I had on hand. I tore it into little pieces & mod podged it all over to age the boots. Painted them black. I added the same black rose lace. Some faux fur from an old Gap jacket around the cuffs then added a chain with skeletons dangling down the sides. I bought these two items at Twice But Nice in Fort Saskatchewan for only $2.50. Finished the exterior with silver glitter glue adding more glitter as needed. Glued on black leaves. I added new soles to the bottom using flip flops I had on hand. I turned the boots over & I traced the soles on paper then transferred the pattern to the flip flop. I cut it out & applied it to the boot using E-6000 (from Michael's)& hot glue. I clamped them in place to dry overnight. The boots still fit & felt great to walk in.

My cloak... The material was formerly a backdrop for my brother and his wife's 25th Anniversary. I had purchased it on sale at Fabricland back in April of this year. I decided to recycle it into a cloak. A happy accident occurred when cutting the fabric. Mom helped me cut the cloak on the kitchen floor. When we were done, we realized we had cut too much out of the sides. My Mom then became my live mannequin. She's in her 70's. She put it on & took it off all while I made corrections & adjustments. I had a very nice black scarf I had purchased from Salvation Army for $2. It was doubled up, so I cut it in half & added it to the sides to fill them in. This corrected the mistake & added more dimension to the piece. I used some black ribbon with silver glitter as trim & sewed it all the way around. I had this in my ribbon stash. I then added a black leaf vine from Dollarama for $3. I had an old chain so I sewed that in place at the back. I added more faux fur from that same Gap jacket to the cuffs. I took what was left of the black lace & cut it into small sections to spread it out all over the cloak. I spray glued them into place & pinned them. The next morning I woke up & the pieces were falling off. Not discouraged, I sewed each piece on. My clasp is a vintage broach and a piece of suede cording. Both hand stiched in place. A happy accident turned into a great piece.

My hat... Bought at Twice But Nice in Fort Saskatchewan. $1.50 plus I found my skeleton .50 cents & my feather .75 cents. I added the silver twig from Dollarama which was formerly a Halloween decor piece with a heavy cement like base. I just cut the twig off $3. I found my raven there too. $1.25. I used a little piece of floral form and glued it inside the hat. Then pierced the fabric & added the twig & feather. I wired on the skeleton & raven. I wrapped the peak in black fabric. Added the faux fur from the gap jacket & strips of the black scarf. I cut sections of the black lace & glued them on. I added black leaves. I stuffed plastic bags inside to help hold the shape.

My broom... I used a cinnamon broom that I bought at Friesen Brothers in Fort Saskatchewan for $10. I added pieces of the scarf, the faux fur, black lace & again black leaves. All attached to the same black ribbon I trimmed my cloak with.

In all I spent around $35 dollars to purchase pieces added to finish the look. Most of the materials I had on hand. I just wore a black dress and black tights. I recycled as much as possible. Of all the costumes I have made over the years, this one is my favorite. It took hours to complete. Mistakes were made, new ideas discovered. Mostly though because my Mom was my helper & a trooper. We had some great laughs & made some awesome memories.