Sock Monkey Cat Costume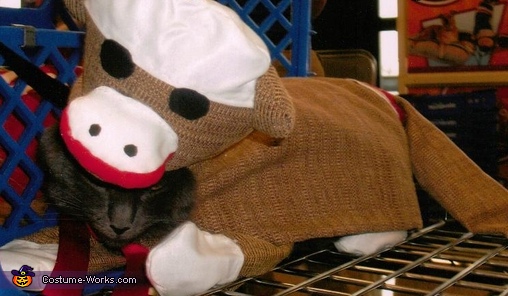 MY LITTLE SOCK MONKEY
A word from Lori, the 'Sock Monkey' costume creator:
This is my cat Nimrod dressed up as a Sock Monkey.
I will say she is quite the good sport when it comes to getting dressed up. (though a bit annoyed at the idea of her tail inside the costume tail).
I made this all by hand (no sewing machine) I only hand sew my costume. This costume consists of 4 pieces....
the body, the head, the tail & the legs.
I only bought reminants from JoAnn fabrics, the body was made from a soft tweed like material, basic white & red non fraying fabric, 1 sheet black felt, 1 red ribbon,
5 button snaps (4-head & 1-tail), elastic, glue gun, fiber fill and a sewing needle & thread.
Sizing your pet up is fun, pinning is another story.
The leg coverings I made all 4 then sewed elastic to each criss crossing them front to back like a big x ,like on suspenders. On the head I made room in the inside for her ears to be comfortable & filled the rest with fiber fill, I sewed 4 snaps around the head so it would stay on.
Believe it or not she could walk around in this costume. I put a trim on the photo to make it more festive for Halloween, I hope you enjoy our little Sock Monkey.