The Sandman Costume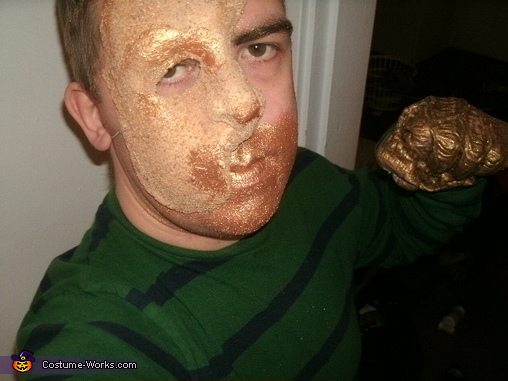 The Sandman (Marvel Comics)
More views:
(click to enlarge)
A word from Mike, the 'Sandman' costume creator:
I wanted to pay homage to my favorite comic book web slingerís most underrated of foes, The Sandman.
Once I found "the shirt", I complimented this basic but interesting look with brown pajama pants for the bottoms and casual, dressy shoes. To appear that I am transforming into sand, I donned a Phantom of the Opera-like half-mask that I caked with several pounds of sand from Michael's. I sprayed the clear mask with an adhesive and let the sand sit on the surface overnight while brushing off the remainder in the morning.
To complete a sandy appearance, gold makeup was applied around my mouth to simulate a transformation.
I also wore a rubber monster hand that I coated with gold acrylic paint and used what sand I had left over from my mask to wreak havoc on that pesky wall-crawler (a souvenir doll I had lying around).