Rock Hopper Penguin Costume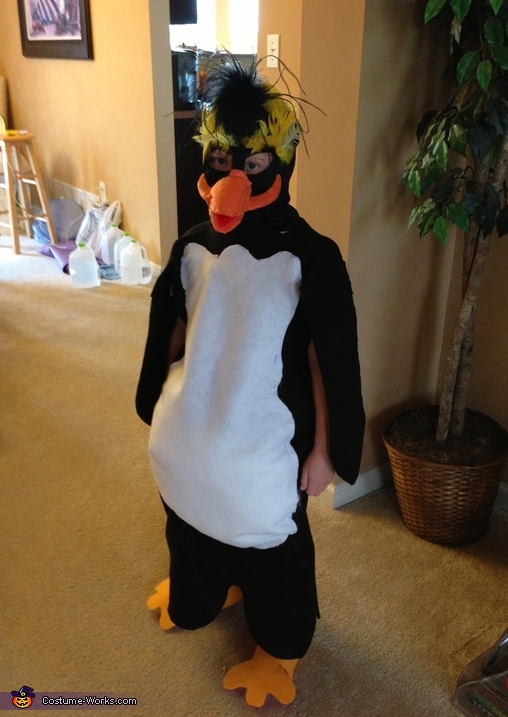 Rock Hopper Penguin Costume
More views:
(click to enlarge)
A word from Vickey, the 'Rock Hopper Penguin' costume creator:
This costume was created because my Grand daughter wanted to be a penguin, not any old penguin, a Rock Hopper.
I bought black and white felt from the fabric store, the cheapest and on sale. I bought a few small squares of orange for the beak and shoe covers. The mask was created on a dollar store ninja fabric mask stripped of all colored pieces. feathers and a feather pad were added and I created the beak out of poster board cover with felt and the bill was lightly stuffed. I used poster board and covered with felt for the shoe covers as well. The white belly is stuffed to give her the round look. I created fingerless gloves to blend in with the flippers hanging from the shoulders. This was a no sew costume, a glue gun was used for assembly. Even though you could not see the girl underneath she loved it. I even created a fish loot bag using scrap fabric on a small string back pack.
Cost was around $14.00. The feather pad on the head costing around 4.00 could be replaced with just glued on feather.