Robot Mega Man X Costume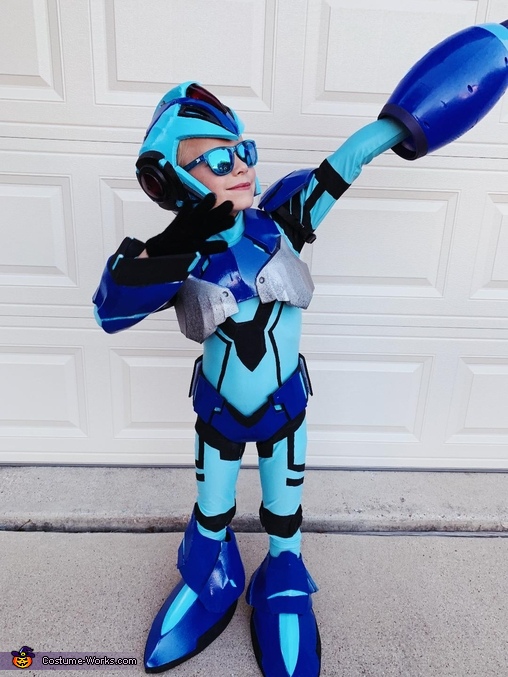 Robot Mega Man X Costume
More views:
(click to enlarge)
A word from Lindsay, the 'Robot Mega Man X' costume creator:
Evey year I make my son's costume and every year his requests get over the top and more ridiculous. This year, he wanted to be "Robot Mega Man X, but I also want it to light up and make noise." He also requested that Mom (Samus Varia Suit), Dad (the WiiFit Trainer), and Nia (Star Fox) be characters from his favorite game as well. Most of the costumes were made by myself including any armor and about half of the sewing (I didn't make the underlying mega man bodysuit, but I painted on an existing one). All armor pieces (minus the blaster...that was a toy) were made with EVA foam, painted, acrylic placed in it, and strung with LED lights from the dollar store. A couple of helpful tips: when painting EVA foam, heat seal, then spray with Plastidip first to keep the paint from seeping in the cells of the foam. When cutting angles with acrylic LEAVE THE PAPER ON THE PIECE WHEN CUTTING. Not only does it keep the pieces from shattering as you are cutting them, it makes it easy to mark on. Also, it is helpful to use a blade designed for specially for plexiglass. From there you can place the acrylic piece in the oven at 200-250 Fahrenheit for approximately 20 minutes. This allows you to be able to shape the acrylic. Work quickly and wear gloves.

Because it took me 2 months to make all of the costumes, I decided to go all out and take photos in front of a green screen so I could photoshop us in levels of the actual game... I also had to learn photoshop in the process.

I hope you enjoy the final results as much as nearly every person who passed us by on Halloween.