Writer, Singer, Producer, Director Rob Zombie Costume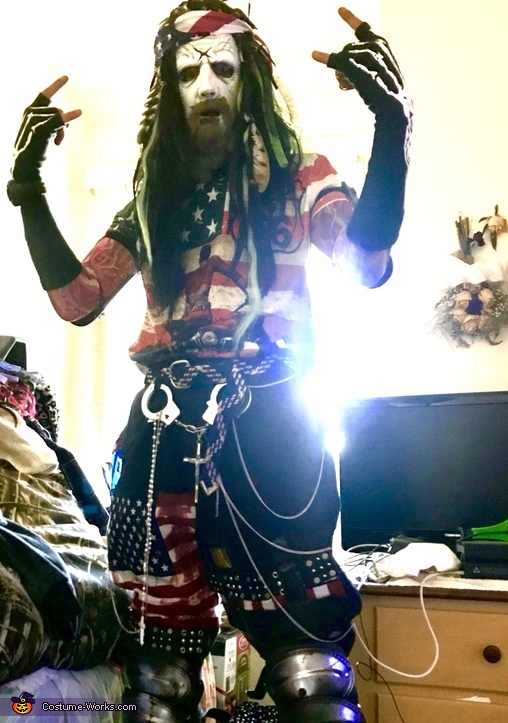 Zombie Rock!!!
More views:
(click to enlarge)
A word from Parker, the 'Rob Zombie' costume creator:
As a kid I was introduced and raised on horror genre movies and grew up listening to Kiss Pantera and other hard rock and metal bands as well as underground rap, horror core I知 a huge ICP fan but of all musicians none more iconic have caught my attention through my highschool years than Rob Zombie 🧟‍♂️ . The man has a unique classic cartoon X Man Wolverine or wearwolf like voice and has directed some of the most iconic horror flicks in his vision House of 1000 Corpses, Devils Rejects and His best which were his twisted version of the Halloween Remakes which scored. He has been a long time favorite celebrity I follow and admire simply because he has come a long beating drug addiction and becoming one of the most recognized symbols of Rock and Horror Genres. I thought it would be cool if my wife and I did our own phantasy interpretation and made up versions of him and his wife as a more Gothic Patriotic version of Zombie and his wife as The Zombie and Living Dead Girl which is what we値l be dressing up as for our yearly Halloween festival we attend every year. I知 just submitting my costume for now as my wife works nights and won稚 have pics of her dressed up til night of the event this upcoming saturday. I spent a lot of time thinking this out and even more time constructing it from scratch the mask had straight which would hang in my face I知 more an old school Rob Zombie so I changed his hair to his original dreadlock stage look by adding ties hair glue owl feathers and neon green and chrome black net mesh funnels to simulate died dreadlocks also an American flag bandanna to hold the hair in place outta my face and cut the mouthpiece so people can see me talk the mask with a neon green glow stick mouth pice and my eyes will reflect zombie eyes in UV black light the guitar and clothes were all my idea I constructed from scratch using various Halloween crafts and jewelry from my own imagination. I hope 🤞 you all enjoy 😉 let痴 show this world rock is still very much alive......