Rita's Food Costumes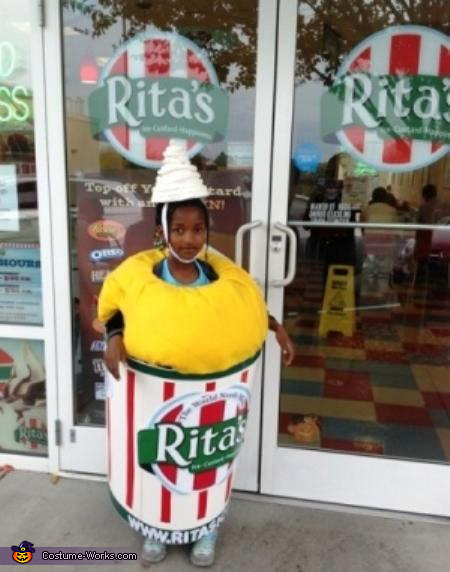 Rita's Mango Gelati
More views:
(click to enlarge)
A word from Suhirah, the 'Rita's' costume creator:
My daughter is age 7. She really enjoys going to Rita's so I decided to create a costume in her size. I found a picture of the Rita's logo and got corporate permission to use it. I enlarge the logo. I purchase a $5.00 laundry basket and poster board to make the cup. I got some orange felt material and pillow stuffing to make the top.
I use some model-able clay for the custard hat.
Starbucks - Trash Can, Logo, Card Board, White Pain Popcorn-logo, poster board, red electrical tape, great stuff
Take-out Box - Wire, Box, Red Marker, Poster Board, chop sticks
Rubric Cube - Construction Paper, Box
Jelly Belly - Insulation Plastic,Poster Board, Logo, Balloons