Revamped Raggedy Ann Costume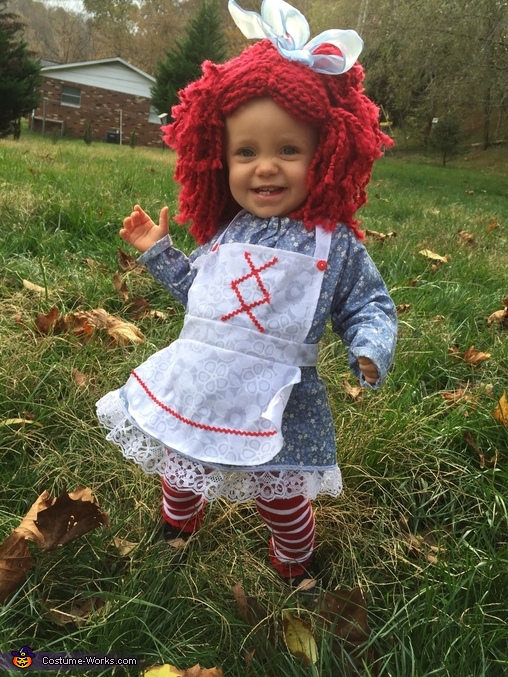 'Ready to Raggedy Roll'
More views:
(click to enlarge)
A word from Alisa, the 'Revamped Raggedy Ann' costume creator:
My little gal l, Corynn is wearing my handmade costume in the photos. Being my daughter's first Halloween, I wanted to do something unique and unforgettable! Handmaking a costume sounded like a fun idea to me. Also somewhat sentimental as this was also what my mom always did for me growing up. I am 23 years old and sewing seems to be almost a forgotten skill in my age group so I take pride in my knowledge and know-how even if it's not the greatest.

I simply remember loving an old Raggedy Ann movie growing up and that's where my idea originated. I free "handed/minded" the dress, apron, and wig patterns. I made them to fit my gal specifically and had to make quite a few adjustments along the way. My suggestion if you plan to do something along these lines would be to look through several patterns until you have a general idea of how to piece fabric to appropriately fit the body you are covering. For the wig, I bought a generic knitted toboggan and a ball of yarn that I tied in piece by piece. The tights were bought online from ruffle bottoms .com.

This was a time-consuming but overly fun experience and I am overly excited to see what I come up with in years to come!