Red Handed Jill Costume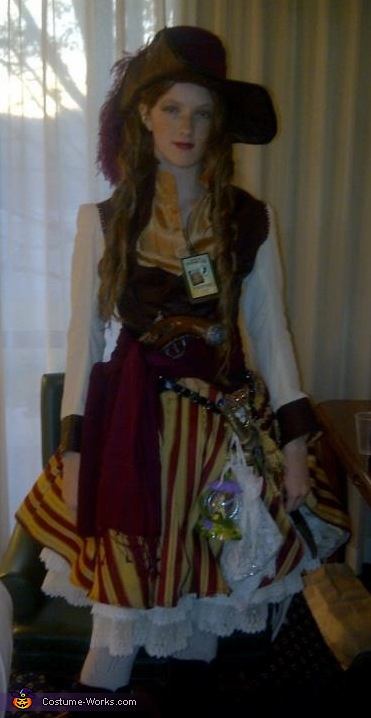 Red Handed Jill taking no prisoners
More views:
(click to enlarge)
A word from Suzanne, the 'Red Handed Jill' costume creator:
Modeled by: Cheyenne Allen
Based upon the literary character Wendy (Peter Pan), but as personified in the Wendy Trilogy original music written and sung by SJ Tucker, Sirens album 2006.
The underpinnings (corset, tiered petticoat), Victorian draped overskirt, vest, and cavalier hat are all original designs/patterns created from historical references, and lots of math. I did buy a great Basics of Corset Building book that saved my sanity.
Using a dress form I created a muslin drape for the corset, and vest; referring to many historical reference books along the way. I flat patterned a circle skirt for the tiered petticoat and over skirt, lots of math and ruler req.; as well as flat pattern for hat based upon historical ref. The 6-tier petticoat is made from medium weight unbleached muslin (8 1/2 yds. 48" w.), heavy ivory tulle (9 yds. 56" w.), and pleated ivory lace (10 1/2 yds. 4" w.); and finished with white satin bias binding. The corset uses the same muslin (3/4 yd. 48" w.), lined with cotton coutil (1/2 yd. 56" w.), spiral steel boning, cream cotton flat lacing (4 yds), and finished with white satin bias binding. The overskirt is heavy red/gold striped upholstery fabric (2 1/2 yds. 56" w.), lined with sheer gold metallic silk lining (2 1/2yds. 48"w.) finished with decorative top stitch hem; to create poof back gathered drape I added ribbon ties underneath. The vest is made from merlot Italian leather (1 yd* 1/8" thick), the muslin for sleeves, and the faux shirt and lining is burnished gold moire taffeta (1/4 yd. 48" w.) with a decorative beaded trim applied by hand; based upon a historical Victorian design where the 'shirt' piece is part of the vest itself. The cavalier hat uses heavy burgundy felt (3/4 yd. 36" w.), buckram for structure, some of the merlot leather, and burnished gold moire taffeta for lining, and finished with black satin bias binding; the burgundy ostrich plumes and gloves (tried and failed to create them) were purchased.
The entire project of crafted items took approximately 59 working hrs. and cost approximately $230; additional accessories around $115.
This showed at FaerieCon and Balticon, Baltimore MD, and she took both by storm and added many to her crew...SJ Tucker was there (FaerieCon) and absolutely loved it!