Pretty Peacock Costume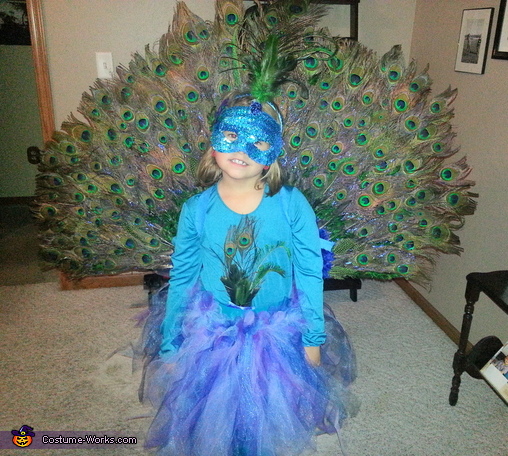 Front of costume
More views:
(click to enlarge)
A word from Lisa, the 'Pretty Peacock' costume creator:
My 7 yr old daughter Nola is wearing this peacock costume I made.
I got the idea from her because she loves peacocks.

The mask I bought white and just added some bling to it as well as a different variety of feathers, including 2 real peacock feathers.

The top is a leotard and I added more feathers to it and a ribbon to cover up the stems. Tights are just basic ones from Target.

I made the tutu from 4 different color tulle that can be bought at any fabric store.

The tail is made up of 150 REAL PEACOCK feathers and also with marabou feathers on the part that is against her back. For the straps I just used blue elastic.

To cover up the stems on the back I put blue ribbon on the bottom of the fan and then used blue ribbon on the top.

All in all, I roughly spent about $120.00 to make this costume. She loves it and was a hit trick or treating. People yelled out of cars on how much they loved the costume and they never seen such a beautiful costume.