Popeye and Family Costume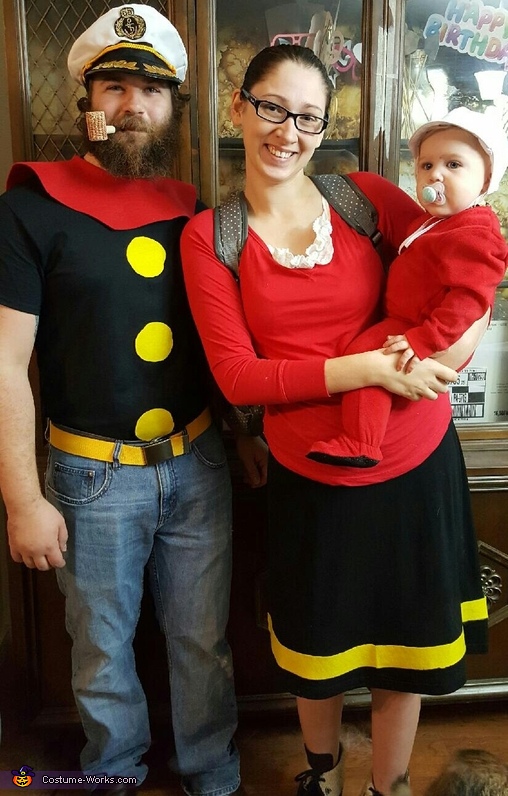 Popeye and family
More views:
(click to enlarge)
A word from Alixandria, the 'Popeye and Family' costume creator:
When my husband and I met, both our families joked we should be Popeye and Olive Oyl, every Halloween. (We never did!)

They quickly added in Swee'Pea as a 'first family' Halloween costume, after we got married, when they wanted us to start trying for a baby!

Last year our son was a month old on Halloween, but we did not partake in any festivities with our NICU baby having just come home. This year we decided to give the people what they always wanted.

Popeye, Olive Oyl, and Swee'Pea!
The costumes cost around $50 in total to bring together.

Popeye:
Purchased - Combination sailor hat and cob pipe, yellow and red felt, yellow military belt
Owned - Black shirt, blue jeans, boots

Olive Oyl:
Purchased - Yellow felt, black skirt
Owned - white ruffle tank, red shirt, boots

Swee'Pea:
Purchased - White baby bonnet, red fleece sleeper

I cut the yellow felt into 'buttons' for Popeye's shirt and Olive Oyl's skirt hem. I can't sew at all, so to keep the surprise a secret (couldn't ask for help from either mother), I used iron-on adhesive to put the felt on the clothing. I then cut the red felt up to fit over my husbands head and into the old fashioned navy cape.

Not pictured is the anchors I drew on my husband's arm and the Spinach koozie we picked up.

It was an extremely easy but fun costume and we got a lot of compliments on it!