Pirates Family Costumes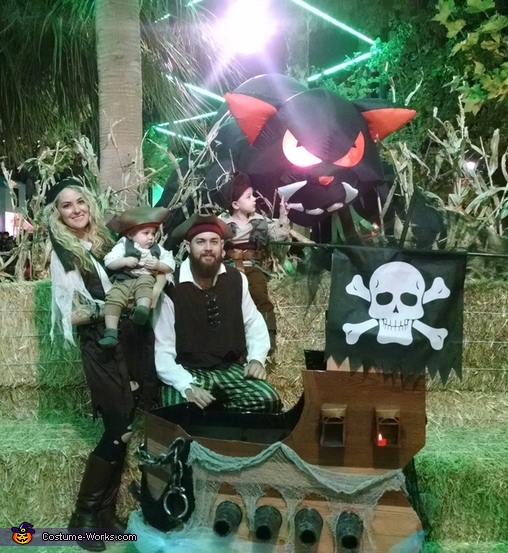 Pirates; The Sully Clan!
More views:
(click to enlarge)
A word from Dana, the 'Pirates Family' costume creator:
Dean; 9 months old, Ashton; 3 years old, Dana & Sean Sullivan. I(Dana) wanted to turn the stroller into something that would go with Dean's costume and when I found his pirate costume, I decided to make the whole family go as pirates.
I purchased all of our costumes from the local Goodwill, totalling about $25! Ashtons costume required a belt and old scarf, which I had hanging up in my closet.
Dean's and Sean's hats were purchased from the local dollar store. I cut up an old red t-shirt, hot glued it to the inside of the hats to give it the bandana look. Then I hot glued the ends of the hats up to form the traditional pirate hat look. To keep Dean's hat in place, I cut off the button snaps from an old onesie, glued one end to an old shoe string and glued them onto the inside of his hat.
For Ashton and Dean's boots, I purchased felt sheets (.25 each x4) hot glued them together and put over their shoes. I bought two little swords from the local Dollar General ($1 each) and Costumes complete!

Stroller Ship: I cut up an old moving box into the shape of a boat. Bought vinyl wood wrap ($1x4) and glued it onto the cardboard. I printed out a window template that I found on Google, cut out and taped it onto the ship for the 3D windows. For the cannons, I black spray painted Solo cups from a leftover birthday party. Then I painted grey smudges over the black to give them more of a rustic look. I then hot glued them onto the ship.
I purchased the black and grey netting along with the plastic chain, under glow(glow sticks 22in), flameless candles (x4) and pirate flag from the local dollar store. For the Anchor I traced a printed out picture onto cardboard, cut it out, hot glued it together, and sprayed painted it black, and smudged it with grey paint. I then glued it to the plastic chain.
For the Water effect; I purchased 2 yards of blue tulle, and 1 yard of light blue tulle from Walmart. I secured all effects onto the cardboard ship with clear fishing line.

Ships sail: I purchased two dowels, Sewed the Pirate flag onto one, drilled in a screw to keep them in place. Added half a yard of Black tool for the sail.

I used zip ties to attach the cardboard ship and sail to the stroller.
For night time effects: Add the under glow(glow sticks) into to the tool, and place the flameless candles inside the 3D windows.