Pirate carrying a Mermaid Costume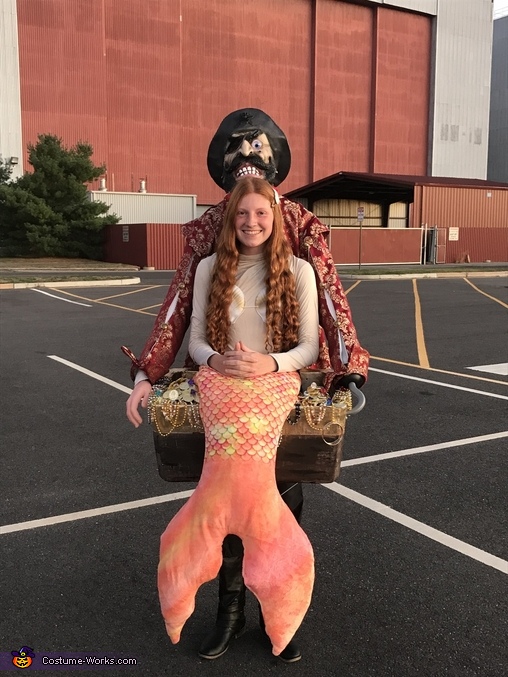 Pirate carrying a Mermaid Costume
More views:
(click to enlarge)
A word from Sherryl, the 'Pirate carrying a Mermaid' costume creator:
Whose that pirate carrying the mermaid!

My daughter is a huge fan of halloween, and my husband and I have always made her costumes. Wait, let me rephrase that, I've always researched the costumes, and my husband has always made them! She's not a little girl anymore, but she still loves it - especially the optical illusion costumes. She's about 5'6" with long red hair, perfect for a mermaid costume. Just not any regular mermaid - one being carried by a pirate. My husband, that poor man, always gives an audible sigh, and then gets on with it!

The costume was a huge hit, so many people staring at her and asking who was carrying her! She won first place at her school dance.

This one was no easy task, but the results were amazing!
Supplies:
Full face pirate mask - unless you draw well - not me!
Fake hand
Fake hook
Large styrofoam cooler
Pirate attire
Extendable handle back pack
Zip ties (long)
Leather belt
Lots of gold coins, baubles etc. for the chest
Gold and brown paint
Mermaid bra and skin tone leotard (optional)
Gallon milk jug
Turtle neck (one you're not going to need again)
Batting, or some kind of stuffing.
Mermaid blanket - this was a blessing, was open at one end and I was able to stuff it to give it shape.

This wasn't a cheap costume, cost about $100 to make, I'm not very crafty, so I bought the hand, hook and mask. If you're crafty you could make them out of chicken wire (perhaps?).

Assembly:
First cut the cooler to fit, its really a guessing game to start with. Make it smaller than you think, then cut more as needed. Decorate - thats the fun bit!

Attach the the milk jug to the extended handles of the backpack, make sure that they cannot fall down. Attach the mask. Stuff the turtle neck and put on the backpack. Attach the fake hand and hook with zip ties. Put a jacket over the top. Set aside.

Have the person put on the leotard and bra, and black pants with black boots. Put on the leather belt as tight as is comfortable make holes where the cooler is going to sit. Drill holes in the side of the cooler, attach zip ties. These will be used to attach the cooler to the belt for stability. Use zip ties to attach the hand and the hook. Also use zipties to attach the "mermaid tail" to the belt, doubling it over so it fits against the waist. Put on the backpack, tucking the pirate jacket behind you. The backpack went under the leotard, but could also go above and be hidden by the hair.

I wish I'd taken more pictures as we were making it.

Hope you enjoy the costume, she certainly did!