Piece of Cake Costume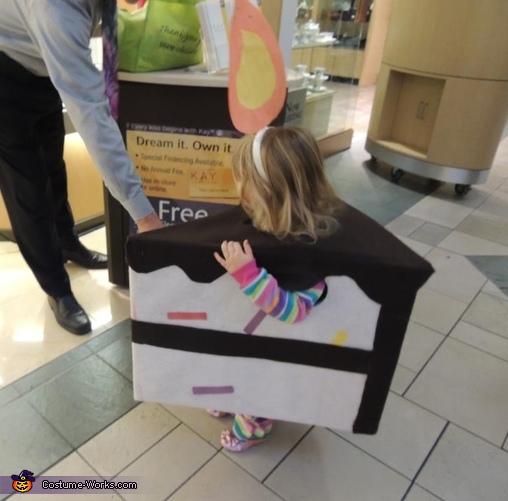 Trick or treating
A word from Rebecca, the 'Piece of Cake' costume creator:
My daughter Kaia wanted to be cake for Halloween several years ago. this is what I came up with to stand out among the hundreds of cupcakes and whole cakes.
We took a regular box. Folded to make the point of the slice.
We cut the arm holes.
We cut off the other panels.
To make the curve we cut strips off of the other panels and wrapped them around a canister to sit while we took care of the fabric part.
We got white and brown felt from the craft store.
I cut a sprinkle shaped stencil in another piece of the spare cardboard.
I got some pastel spray paints and painted the sprinkles.
The next step was measuring and cutting the "frosting".
One strip for the middle layer and scalloped edges for the top layer.
We cut a hole in middle for the head.
We reinforced the hole with extra strips of left over cardboard for the shoulders.
We tinkered with what glue to use. Craft spray on glue was worthless. We wound up using gorilla glue.
We glued the now curved panels on the back. We used 3 and that was plenty.
Then just pasting the white fabric and then the frosting layer.
We wound up using staples around the scallops of the top layer because it kept peeling up.
We made a flame from construction paper and attached it to a headband with wire we glued between layers.
the final step was dressing daughter in a matching jump suit to look like a colorful candle.
There is lots of steps here, but it was so easy and didn't take much time at all. Cost out of pocket was like $10 for fabric.