Phineas with Perry the Platypus Costume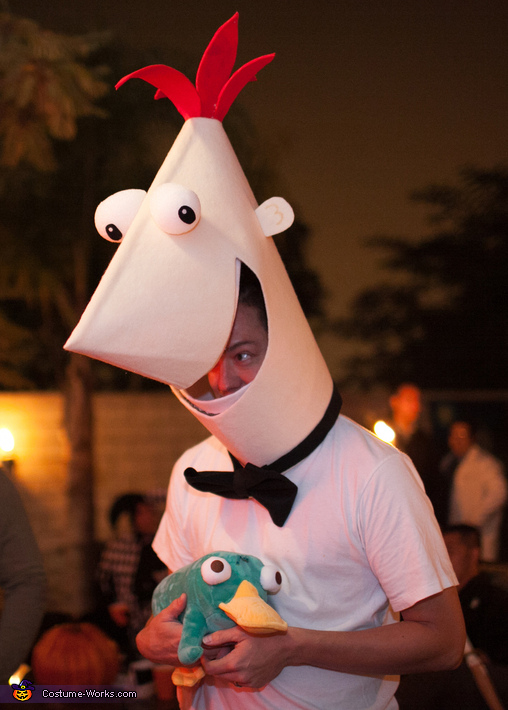 Phineas and Perry the Platypus
A word from Kat, the 'Phineas with Perry the Platypus' costume creator:
After procrastinating on ordering a costume for my husband, I was officially out of time and desperate. Luckily, I tripped over my son's Perry the Platypus stuffed animal... I quickly started rounding up some supplies we had laying around.
Phineas's face was shaped from a single sheet of posterboard and then covered with peach colored felt. The hair was also poster board, cut in leaf shapes and then covered with red felt.
For the eyes, I ran to Michael's and found some egg shaped styrofoam and shaved off a small slice so I would have a flat surface to securely glue to the felt on the face. I glued black felt ovals for the pupils and a small white dot on top to complete the eyes.
For the teeth, I cut up 2 leftover strips of posterboard and covered them with white felt. To make the teeth look a little recessed from the lips, I added a strip of cardboard from a box I found in the garage.
The bowtie was made from black felt and my husband simply added a white tshirt and some blue shorts, and voila, almost instant Phineas costume. :) My husband (who's not one to dress up for Halloween) loved it. The opening was just large enough so that he was able to slip his head in and it was balanced on his shoulders.