Pharaoh of the Nile Costume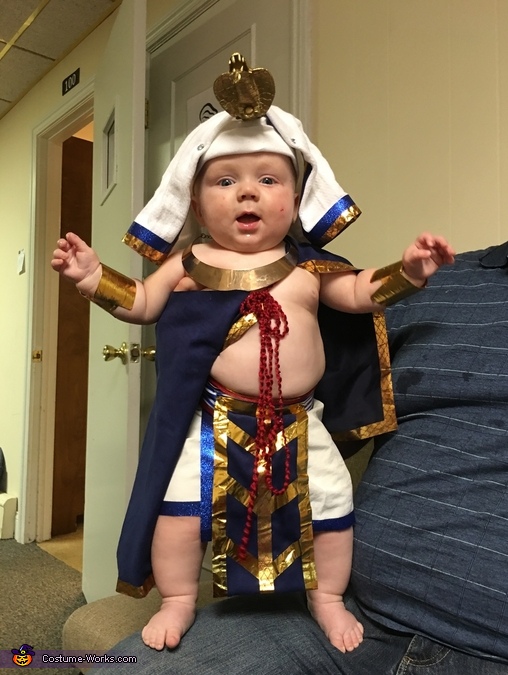 Pharaoh of the Nile Costume
More views:
(click to enlarge)
A word from Leah, the 'Pharaoh of the Nile' costume creator:
This is my 5 month old son Lincoln's first Halloween. He's dressed as the cutest Pharaoh this side of the Nile. I originally got the idea when my husband tossed me a burp cloth and it landed perfectly on my son's head and looked like an Egyptian headdress. The headdress is made from a burp cloth that has been lined with washi tape and attached to a hat. I spray painted a rubber snake gold and sewed it to the hat and used some wire to make it stand up. He's wearing a cold collar necklace. The cuffs are a toilet paper roll covered with the gold washi tape. The cape and "skirt" are also lined with washi tape and a ribbon belt completes the look. His crook is made from the hook of a coat hanger that was taped to a pencil. I then wrapped the washi tape around it and covered it with clear packing tape to make the different layers smooth. The flail was similar: made from a pencil with pony beads attached to the eraser by a pushpin. I only spent about $10 on the paint and tape. I had all of the other materials at home such as the leftover fabric that made the cape, a sheet made the skirt, and pieces of ribbon, yarn, etc to finish it off.
The costume was no sew as I "hemmed" the fabric with the tape. This made it super easy to make. The cape is like a semi-circle skirt pattern. Honestly, the hardest part was getting him dressed!