Penny Lane Costume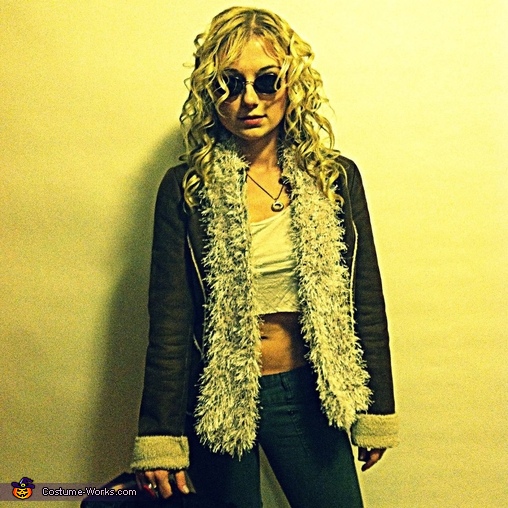 Penny Lane - The original Band Aid.
More views:
(click to enlarge)
A word from Candice, the 'Penny Lane' costume creator:
I am a HUGE Almost Famous fan. I've always been told I resemble Kate Hudson so it seemed like a perfect idea! I love that era in time -- the vibes, the music, all of it!
How I did it:
I had been holding on to a pair of flare jeans for the past 8 years knowing that they would somehow come in hand one day (thanks 90s).
I bought the jacket at a thrift store and sewed a fuzzy scarf onto the front.
The sunglasses game from a local convenient store.
I took an old t-shirt and cut the bottom off.
I bought a tackle box at Walgreens (I believe it was intended for nails/tools and such) and sprayed pained it black.
It was so much fun and everyone recognized my costume. It's been my most favorite to date!