Pebbles & Bam Bam Costume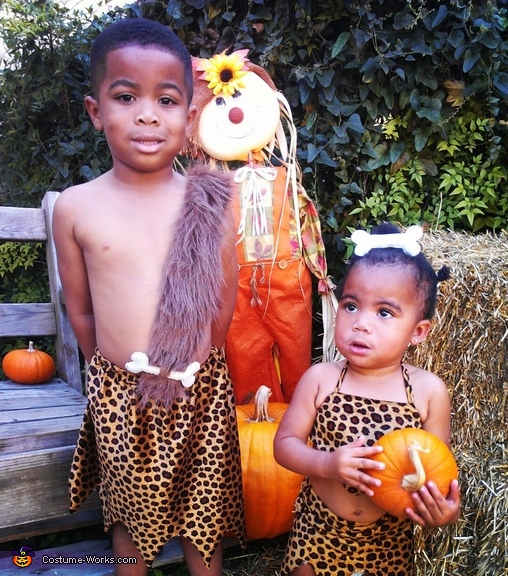 Finally a smile from Bam Bam
More views:
(click to enlarge)
A word from Jazmin, the 'Pebbles & Bam Bam' costume creator:
I have a four year old little boy, and and one year old little girl (I'm also a HUGE fan of leopard) so when Halloween came around this year the first thing that came to mind for costumes was Pebbles and Bam Bam. My son had his mind set on being Batman, which he has been for 3 years straight now, but when I showed him a picture of Bam Bam he immediately agreed to dress up as him because he has cave-like, bad boy ways. Lol. So i began my journey on homemade costumes. I got some of my ideas off of thw web, but most of them I made up.
I originaloly had planned to have my grandmother sew the costumes with her sewing machine, but she was procrastinating and as impatient as I am I experimented and handsewed both costumes on my own. My first time ever sewing anything besides elastic together. So there was plenty trial and error.
I brought the leopard fabric from Hobby Lobby. I measured my kids waist and cut more of a triangle bottom. I learned that if you cute straight down its a little too tight. I then cut triangles out the bottom of the fabric before I sewed it in the back.
For pebbles shirt. I cut the shape of a bandana and had planned on just tying it in the back to make it look more "raggedy" and for easier on and off, but it kept falling or either she would pull it would pull it down EVERYTIME I said "say cheese" lol so I made a little anchor around her neck to keep it up. I sewed a button on one side, created a little slit on the other because the fabric is not strecthy so fitting it over her head would be hard. For the straps i sewed one side and sewed another button, and created another slit for that button so that way it would go around her neck and connect on the opposite side.
For Bam Bams sash. I got the material from Hobby Lobby as well it was actually a pre-cut material one on of the aisles. I brought three packages for $2.99 and I sewed them together after i measured them from the front of his skirt, over one shoulder, and a little to the other side of opposite the front if that makes sense. The front of th sash is velcroed to the skirt so that way i could undo it and it would sewed to the back so it wouldnt come all the way apart just the front so he could slip it off.
The bones were made out of a sheet of felt. I brought one white sheet for .79 and drew out by hand a bone. I then cut it out and cut around it again. I began sewing those two pieces together and stuffed the inside with cotton. For Bam Bams bone I cut two slits and sewed the back of the bone to the fur material.
I looked and ran around like crazy for a bat for Bam Bam but I settled for buying one from Party City for $9.99. For their hair we have white spray paint for Bam Bam and red for Pebbles, I only want to try that once so I'll update on Halloween :)
My son wears his costume around the house all day. As soon as he gets home from school he wants it on. He runs around hitting the floor with his bat screaming "Bam Bam". Funny thing is when we went to take pictures at our local pumpkin patch, he was embarassed because he felt everyone was staring at him because he was naked LOL everyone wanted to take pictures of them, and we got so many ohh's and ahh's. People who asked where did I buy them were AMAZED when I said "I made them" :)