Parrott Costume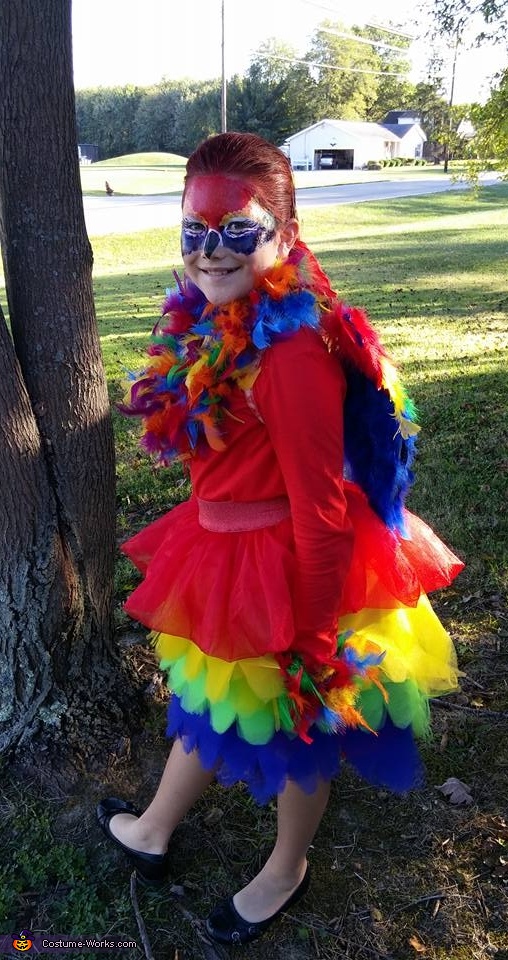 Parrott Costume
More views:
(click to enlarge)
A word from Brittany, the 'Parrott' costume creator:
This costume was for my daughter. She was looking at costume ideas on Pinterest and this is what she settled on.

Materials:
1 red tulle hi-low skirt from Target's Halloween Department
3 yards each of royal blue, yellow, and bright green tulle
red feathers, blue feathers, green feathers, yellow feathers
multi-colored feather boa
white angel wings
red shirt

Instructions:
1) I took each of the three colors of tulle, folded them in half the long way, and then did it again. Then I sewed along the top to make a tube. Folded it in half the other way and then sewed the ends together to make a circle.

2) Then I took the red tulle that was on the skirt already, folded it in half (tucking under) and sewed it in place. Then I took each color of tulle circles starting with yellow, then green, then blue, and then pinned them into place on the skirt starting 3" down from the red, then 3" from the yellow, and 4" from the green. Note: I sewed them upside down and inside out so that when you pulled the layers down there would be a little poofiness.

3) Next was the wings. I took the wings out, and started hot gluing feathers down starting with blue on the bottom, then a little row of green above that, then a little row of yellow above that, and red at the top. For the inside of the wings, I used just blue feathers with a few red ones at the top like a cap.

4) Finally, I made two small scarves out of the feather boa and two wristlets. I just cut them to size and sewed the ends together.

The rest was just facepaint and hair.