Pajama Party Barbie-in-a-Box Costume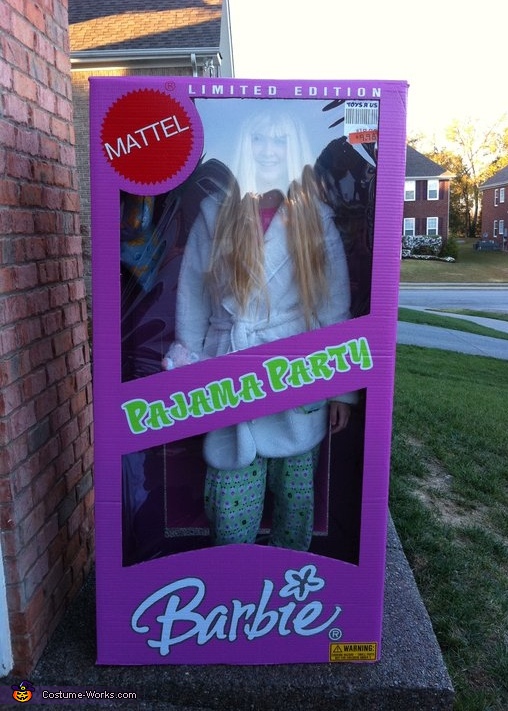 Pajama Party Barbie-in-a-Box
More views:
(click to enlarge)
A word from Alyssa, the 'Pajama Party Barbie-in-a-Box' costume creator:
Halloween 2010, I was a barbie in a box. That year, I wasn't really going to be anything special for Halloween. My church was having a costume contest, so I was going to be something cute like a cat or princess or something generic like that - until (two days before the actual contest) I found out the Grand Prize was an autographed guitar from Hayley Williams of Paramore.
I started out with a giant couch box that I got from Rooms-to-Go, then painted it pink. My dad helped cut out all the slots and made all the vinyl decals (the name tag, price/sale stickers, mattel logo, etc) for it. We put those on and then put a a "plastic packaging screen" in (which was really just a long piece of the material used to laminate papers). I zip-tied little accessories (a stuffed animal, some bags of popcorn, and a few dvd's) to the back. I wore some cute sheep pajamas, a robe, hot pink fuzzy slippers, and a long blonde wig. Obviously, walking around/ getting in and out of a big box like that would be difficult, so we cut a flap in the back that could let me get in and out easily and then attached handles made out of zip-ties so I could pick the box up and walk around.
When I walked into the contest, I think everyone's jaw hit the floor. My youth pastor came up to me and said "Well I guess we found our winner!" withing a few minutes of my arrival. I won, and thus began my need win every year since.... :)