Owl Costume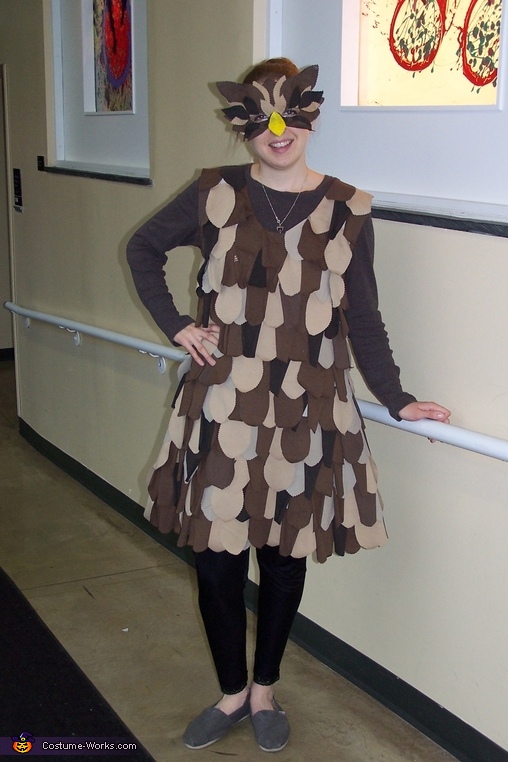 My Owl Costume
More views:
(click to enlarge)
A word from Courtney, the 'Owl' costume creator:
I am wearing my Owl costume to our annual Halloween party for kids and families at Franklin Park Conservatory and Botanical Gardens where I work as an educator. My husband went with me as a birdwatcher!

I got the idea for my costume from the blog, A Beautiful Mess "Lady Bird Owl DIY." To make my costume I took a tan pillowcase and cut out arm holes and a hole for my head (I used a tank top as a guide). The pillowcase was a little narrow for my hips so I cut a slit in each side about 18 inches long and sewed a triangle of fabric on each side. This gave me enough space to easily move in the dress. The "feathers" are made out of t-shirt, light-weight khaki and other scrap fabric. I attached the feathers in evenly spaced rows with hot glue. The mask is a basic half-mask form, I hot-glued leftover t-shirt scrap to the mask then sprayed with liquid fabric starch so the feathers would stand up. For the rest of the costume I wore a long-sleeved t-shirt, tights and my favorite gray TOMS.

I had fun making my costume and got a lot of nice compliments on it at our Halloween party!