We're Off to See the Wizard Group Costume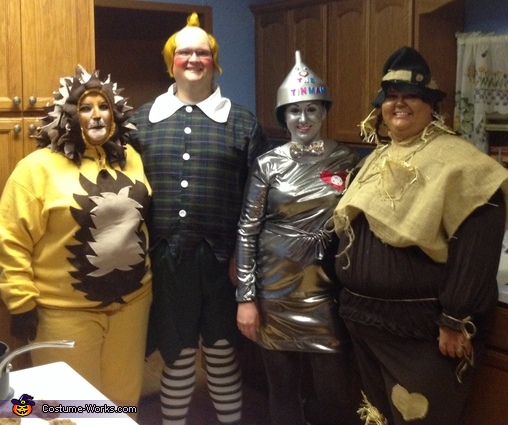 Off to See the Wizard!
A word from Kelly, the 'Off to See the Wizard' costume creator:
Our friends group theme this year was Wizard of Oz with a twist!! The twist is a 6 and a half foot munchkin, and the lioness, tin woman and "Scarlet Crow" are searching for their loves on the yellowbrick road!! The brave lioness is hoping opposites attract, the tin woman has enough heart for two, and Scarlet Crow is a no brainer for The Scarecrow!!!
The scarecrow accessories were handcrafted from Black and Tan burlap, bailer twine and thread. The smock and hat were hand made and the decorations were woven in with the bailer twine. Add a little foundation and straw and walaa!! (Around $20)
The tin woman's dress was handsewn, and a painted funnel makes a perfect hat! Add sparkly tights, sequin slippers and some silver makeup and you'll be sure to attract the tin man! (Around $60 as the material was a little pricey)
The lioness flipped sweatpants and a zipper hoodie inside out for a fuzzy body, and went to town the tan and brown felt material. Paint on her pretty nose and whiskers and watch out cowardly lion! (Around $25)
And surprisely to us, you can purchase store bought munchkin suits for tall men ;-) the only thing better than handcrafting a costume is the irony of finding this one!!