Octopus Costume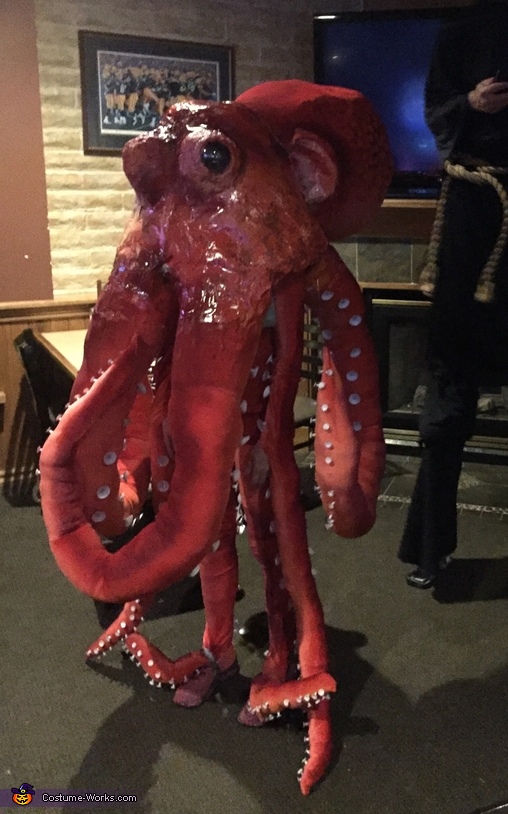 Octopus Costume
More views:
(click to enlarge)
A word from Jackie, the 'Octopus' costume creator:
My friend and I made the costume and I wore it out. I came up with the idea after seeing "finding Dory" and that my son cant say octopus he says applepus. I thought a realistic look would be cooler and unique.
First, make a shape of the head out of chicken wire. Then cover the frame with wet newspaper and glue. Next, make chicken wire starts to the tenticles and attach the the original head. Used duck tape to attach pieces together as well. We covered the head with material and made tenticles with the material as well. Then I spray painted the entire costume. She added detail in painting while I glued suction cups to the tenticles. We cut a plastic Christmas bulb in half and glued them in the eye sockets. We lined the inside of the chicken wire head with foam for comfort and protection. We reacted tenticles to each other to prevent tripping. Four tenticles were filled with my arm and legs and the others were stuffed.
It's a big wide costume so I couldn't be missed. all eyes were on me. I practiced walking in it before hand thankfully. A lot of people wanted pictures with it. Some people stared at me when I stood still debaiting if I was a prop or a real costume. We had to connect like three straws in order for me to drink out of a bottle.
It took evenings for a week to make and costs was around $150.