Doll Costume and Makeup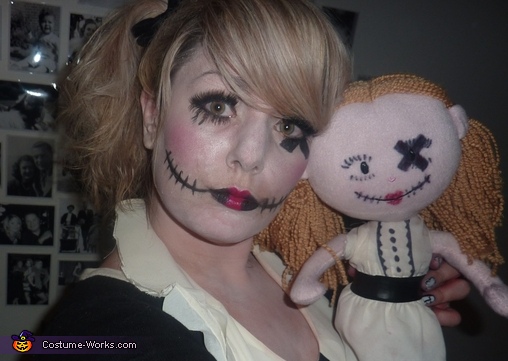 Dolly and I
A word from Victoria, the 'Night of the Living Dolls' costume creator:
I am wearing the costume. I live in a basement flat in a house that looks like a gorgeous dolls house. my flatmates and I decided to all dress as different dolls, puppet on a string, living doll, and dead barbie.
My hair is backcombed and in pigtails with ribbon.
Makeup is white foundation, talcom powder rubbed on top. Fake eyelashes on upper and lower lashes for doll effect. Gel eyeliner to make the cross of the eyes and define stitches in mouth.
I just wore a plain black dress and made an apron and used the same material to make the dolls dress.
I bought the doll and drew it's face to match my makeup.