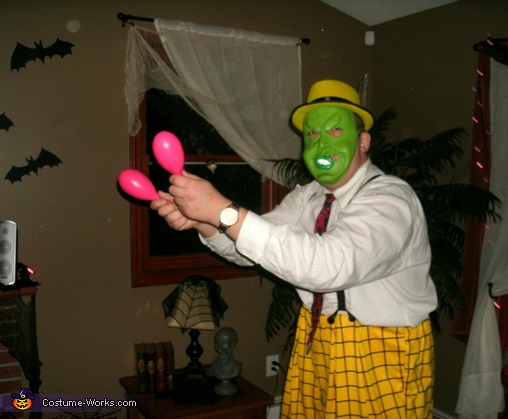 Tried to pay homage to Cuban Pete in a subtle manner, no blue ruffled shirt, figured maracas from IParty would do the trick
More views:
(click to enlarge)
A word from Mike, the 'The Mask' costume creator:
I channeled my inner Jim Carrey this year and went with The Mask for my costume.
For the concept, I donned a 'pimped' zoot suit with a colorful tie from Salvation Army. A matching color fedora was purchased at a discount store, with a dress shirt.
The actual face was a ghoul's mask from a Halloween store that I coated with Apple Tart-colored acrylic paint from Michaels. I cut out the closed mouth for my lips in black lipstick and a combo of green lipped lollipop and vampire fang teeth (with fangs cut off) to emulate that shiny cartoon-like smile.