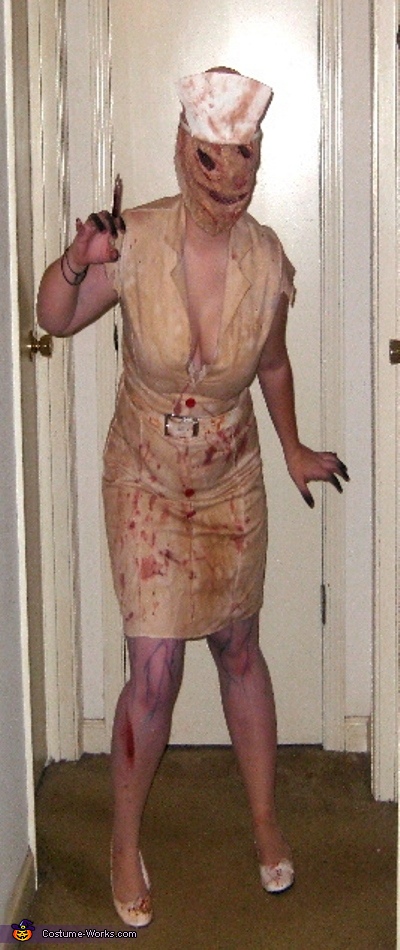 A word from NH, the 'Bubblehead Nurse' costume creator:
The costume is completely inspired by the bubblehead nurse from the Silent Hill series. It is handmade and all in all took about three days to complete. It was also a last minute idea, after my brother requested I make him Pyramid Head from the same movie. After making his costume, (using cardboard, a plastic tablecloth, kitchen place mats, broken pencils and aluminum candle holders) I knew I had to be the Bubblehead nurse.
I started making a paper mache foundation using a plastic bag and a balloon, with layers of tissue paper, cheesecloth, toilet paper, more cheesecloth, and finally some liquid latex. Once dried (I'm a bit impatient when it comes to costume making, so I sped the process up with a hairdryer), I painted it with varying colors of acrylic paint, and fake blood in the eyes and mouth.
The dress is just a plain white dress, that I dyed using black tea (and then sprayed with copious amounts of Febreeze. Tea is tasty, but doesn't smell good on clothes!) The shoes, belt and pantyhose were all originally plain white (and purchased for $9.00 total!) that I speckled fake blood all over. I stuck my hands in some brown acrylic paint and drug them over the items leaving brown streaks and stains. I then took a lighter to spots and left burn marks over everything.
The hat was just a headband I covered in lightweight white foam and then speckled with paints, tea and fake blood.
I drew veins on my legs using teal, maroon, and blue markers, and then smudging with vaseline and soapy water. I also spray painted my finger tips black to give the look of decay.
I have worn it to work, and our weekly bar and grill for trivia, and received some great reactions! I didn't plan on making a tutorial, so I didn't have any pics of me putting it together, unfortunately :(