Monsters Inc Characters Costume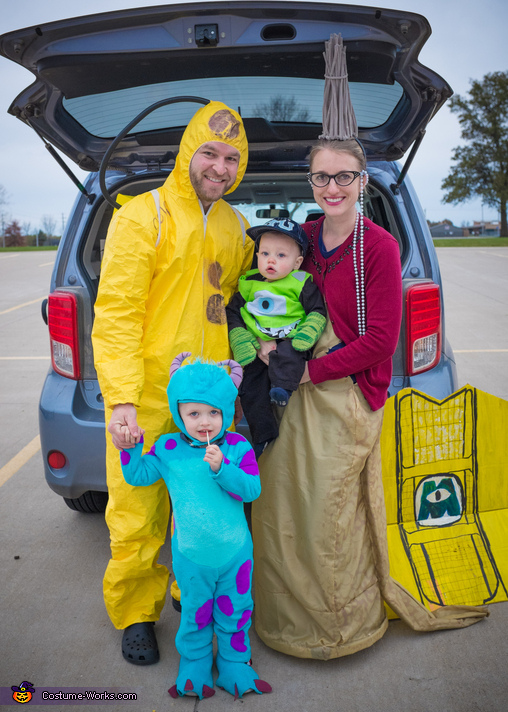 The family group shot
More views:
(click to enlarge)
A word from Brittany, the 'Monsters Inc Characters' costume creator:
This is a family costume. My 2 year old son's favorite movie this year is Monster's Inc. One of our favorite quotes (and one we use often when the toddler is getting into trouble) in my best Roz voice is "I'll be watching you Wazowski, always watching". This costume was about 50% homemade. Let's start with CDA: I bought a yellow hazmat suit on amazon for about $12. I embellished it with permanent marker to make the black ventilation marks and red reflectors. For the CDA backpack I painted a cardboard box yellow and stapled elastic to it for the straps. I took a hose from my exercise pump for the vacuum hose.
ROZ:Probably the most homemade of all the costumes. For the slug body I found a nice shiny green material at Walmart for a couple bucks and traced a tank top I had for the upper bodice, then flared out as I went down. I didn't have a hoop skirt so I cutout strips of cardboard box and taped them together in a circle. I then hemmed the bottom of the dress around the cardboard to give it a fuller look. I found a red cardigan at a thrift store and ordered the glasses on amazon for about $7. I used a pearl necklace of mine for the chain. I attached gray pipe cleaners to a headband for the hair.
SULLY: Bought on Amazon for about $13, figured I couldn't buy fabric for less than that.
MIKE: Used felt to construct the head and facial features and sewed it to fit my baby. Attached everything on the face with glue.