Monster High Kiyomi Haunterly Costume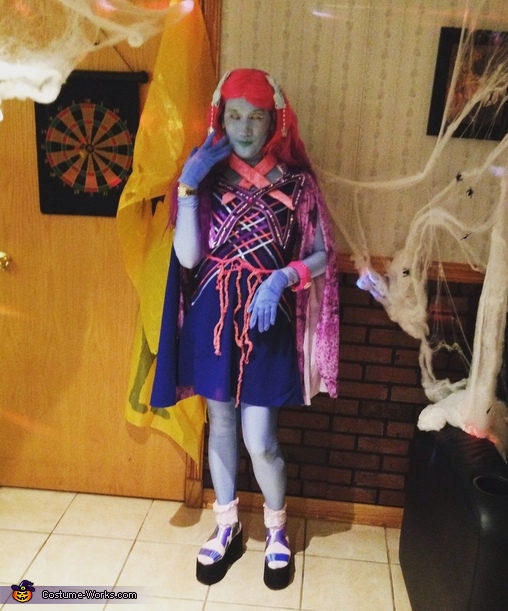 I am dressed as Kiyomi Haunterly
More views:
(click to enlarge)
A word from Anna, the 'Monster High Kiyomi Haunterly' costume creator:
I really love Monsters High and so I decided to recreate this look for my halloween costume. Kiyomi Haunterly from Monsters High is a faceless fashionista. She is a daughter of a ghost. This costume cannot be found in the stores so I had to re-create the outfit. I bought a plain navy blue flowy dress and embellished with blue, pink, and purple ribbons. I bought a purple fabric and used it to create the butterfly sleeves. As for the chained belt, I used a hot pink rubber bands and braided them to create the chains hanging around the belt. I used a lilac felt to create the bib collar and embellished it with some ribbons, spikes, purple beads and crystals from Michaels. I bought the pink bandana and styled it like an ascot neck scarf.

I found that We Love Colors sells nylon gloves and unitard, which is good because I don't really want to get body paint on my clothes. All I wanted to deal with is to paint my face, ears and neck. I paid for 2 days shipping for the unitard and gloves bec I was running out of time. I just discovered We Love Colors through Facebook 1 week before halloween. Thankfully my order arrived the day before our halloween party and I wished that We Love Colors would make unitards with a button in the crotch for men and women bec that was my other concern. So I had to cut the unitard by the waist and attach to the top with a safety pin. I know I could have purchased a separate tights, bodysuit and gloves but I was worried that the nylon material would be slippery to walk in. I'm so glad that the matching gloves was available. I purchased the wig, rubber bands, pink cuff bracelet, face paint, felt, and crystals from the craft store and eBay months before. I purchased the white mesh circle lenses from Pinky Paradise. For this costume I spent a total of $279.14

I really enjoyed planning and creating this outfit even though I spent a lot of money to put these together. I appreciate the outfit more because of the time and effort I put into everything. I especially enjoyed doing my hair and makeup. It was my first time using a face paint. I find that the Mehron Paradise Face Paints is a good quality affordable face paint. It is not streaky compared to Snazaroo. This face paint looks really good in pictures. It dries fast and can be removed with make-up remover and face wash.

I really enjoyed dressing as Kiyomi Haunterly. I love how the light blue face paint and mesh contact lenses complemented each other. Everyone at the halloween party really loved my costume and circle lenses because it is unique and the lenses scared them. This circle lenses is very interesting. I can see 85% in these lenses in dim light than in bright light. Its harder to see in dark places. I felt like walking in a foggy room. The lenses was very comfortable to wear. My advice to anyone who wants to try these lenses is to put on your hair and make up first before putting on theses lenses. Also you need to bring re-wetting drops because these lenses are a bit drying but tolerable. If only I can live in a world of dressing up into my favorite characters everyday. It would be really fun!