Monster High Freaky Fusion Frankie Stein Costume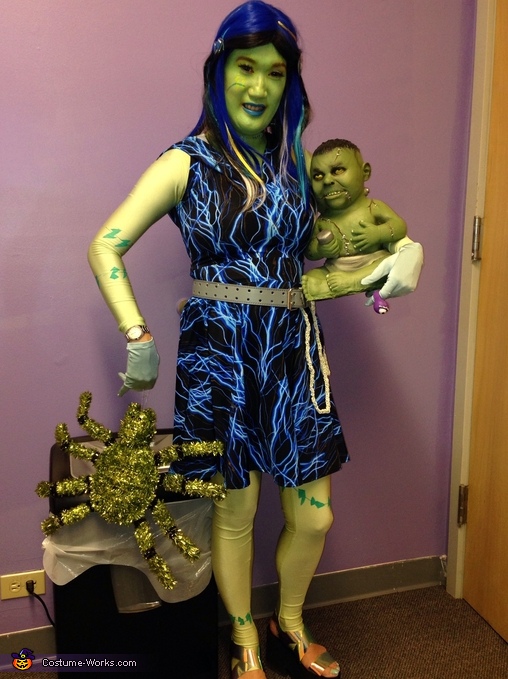 I am dressed as Frankie Stein holding baby Frankenstein and pet spider
More views:
(click to enlarge)
A word from Anna, the 'Monster High Freaky Fusion Frankie Stein' costume creator:
Name: Anna Ramos
Name of my Costume(s):
#1. Monsters High Frankie Stein
Where Am I From?: Chicago, IL USA
What We Love Colors Product Am I Wearing: Costume#1-Mint Green Unitard and Kelly Green mini gloves.
Facebook Username: Rainfairy_Lioness72
Instagram Username: coachanner

I made 2 halloween costumes this year 2015 because I love both Frankie Stein and Kiyomi Haunterly. I was going to dress as Kiyomi next year but wore each one to halloween parties this year. I wore Frankie Stein in our work Halloween Party on Oct 30 and Kiyomi Haunterly at my friend's Halloween Party on Oct 31.

I really love Monsters High and so I decided to recreate this look for my halloween costume. Costume#1 Frankie Stein doll from Monsters High Freaky Fusion Collection is actually my favorite. This costume cannot be found in the stores so I had to re-create the outfit. I bought the blue lightning bolt dress from eBay. I drew in some gold lightning bolts with a metallic marker. Since I couldn't find an adult sized bodysuit or leggings in the stores, I found that We Love Colors sells nylon gloves and unitard, which is good because I don't really want to get body paint on my clothes. All I wanted to deal with is to paint my face, ears and neck. I paid for 2 days shipping for the unitard and gloves bec I was running out of time. Thankfully my order arrived the day before our halloween party and I wished that We Love Colors would make unitards with a button in the crotch for men and women bec that was my other concern. So I had to cut the unitard by the waist and attach to the top with a safety pin. I know I could have purchased a separate tights, bodysuit and gloves but I was worried that the nylon material would be slippery to walk in. So for the lightning bolts around the arms and legs, I drew it in with a blue highlighter marker. I didn't have the matching Mint Green gloves bec it was not in stock so I used the Kelly Green gloves instead. I braided some white rubber bands and attached to my belt to get the look of the chains. I purchased the wig, strands, neck screws, earrings, belt, white rubber bands, tattoo stickers and face paint from the craft store and eBay months before. I purchased the green and blue circle lenses from Pinky Paradise and Lens Village. For this costume I spent a total of $300.72

I really enjoyed planning and creating this outfit even though I spent a lot of money to put these together. I appreciate the outfit more because of the time and effort I put into everything. I especially enjoyed doing my hair and makeup. It was my first time using a face paint. I find that the Mehron Paradise Face Paints is a good quality affordable face paint. It is not streaky compared to Snazaroo. This face paint looks really good in pictures. It dries fast and can be removed with make-up remover and face wash.

I really love dressing as Frankie Stein. I love how the green face paint and contact lenses complemented each other. If only I can live in a world of dressing up into my favorite characters everyday. It would be really fun!