Mommy Flower and Baby Ladybug Family Costume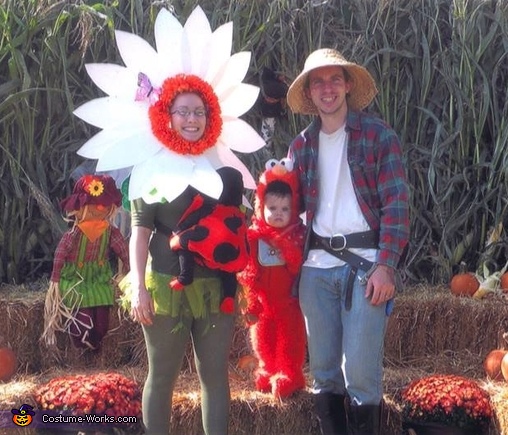 Our family at last year's fall festival!
A word from Elizabeth, the 'Mommy Flower and Baby Ladybug' costume creator:
Our youngest was just 3 months old last Halloween and I was one tired nursing mama! I didn't want to deprive our two year old of Halloween fun and wanted to give her the family experience I had always planned on by having us all dress up. I wanted to incorporate wearing the baby in our ergo carrier and wanted to be part of the costume. Thus, mommy flower and baby ladybug was created! The costume served its purpose for not only showcasing the baby's ladybug costume (which was made of soft fabric and recycled odds and ends we had at home) but allowed me to feed baby discretely with no one noticing as she could be hidden behind my flower petal mask! We were both comfortable and festive. My husband joined in as the farmer and our 2 year old wanted to be "farmer Elmo."