Minneapolis Moline Tractor Driver Costume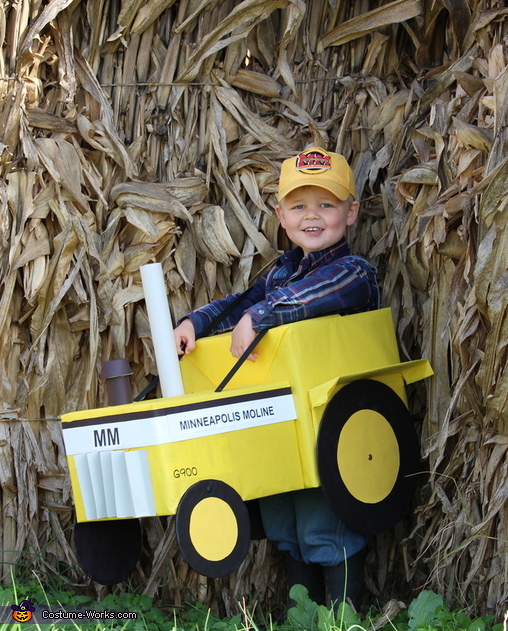 Parker driving his Minneapolis Moline G900 Tractor
More views:
(click to enlarge)
A word from Christine, the 'Minneapolis Moline Tractor Driver' costume creator:
This is Parker, age 3, wearing his tractor costume. Parker is a 5th generation lover of Minneapolis Moline tractors. These tractors were sold from the early 1900's through 1972. Our family sold these tractors back in the day and have now become collectors of this antique heirloom.

Parker's costume is made from boxes, yellow construction paper, and cardboard. Our biggest expense was the piece of elastic used for straps so that he could wear his tractor. We did have to secure the boxes with a few bolts to hold it together. The wheels were cut out of cardboard. His tractor, which is just like his PeePaw's, had a muffler (paper towel holder) and an air cleaner (toilet paper holder and a plastic condiment dish). His costume was complete with his slow moving vehicle sign on the back of his tractor. With the help of a blue tooth speaker, his tractor even played engine noises.

Parker was very proud to wear his tractor all over the place. His love of tractors will stay with him forever!!