Minion Dave and El Macho Minion Costume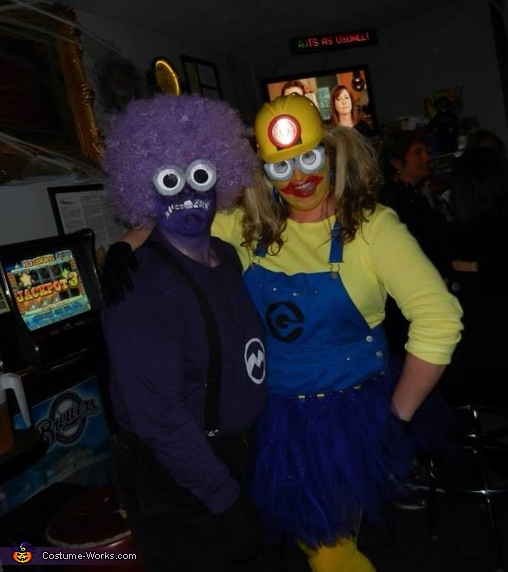 The minions!
More views:
(click to enlarge)
A word from Natasha, the 'Minion Dave and El Macho Minion' costume creator:
My husband and I are wearing our homemade minion costumes. The sequel movie was a big favorite of ours this year and we wanted to create our favorite characters to wear to a party. I bought white long sleeve shirts and dyed them each with Rit dye to make the correct shades of yellow and purple. We used iron on patch squares to cut out the gru logo and the el macho logo and ironed them on the costume. I found my short overalls at goodwill as well as his black worker pants. We bought suspenders to create his overalls look. We each wore black gloves we already had. I made my skirt out of tulle and ribbon and wore yellow leggings from the Halloween shop. I also found my light up helmet at the same store. We bought our makeup and wig for him at the store too. To make our minion goggles we used old 3d movie glasses and found the goggle pattern on a craft website to print out. We taped the goggles on to the 3d glasses. The whole look cost about $100 total for both. We had a great time playing our favorite characters and everyone kept taking our pics with the minions! It was a banana of a time!